It Doesn't Look Like Adele Will *Ever* Run Out Of New Hairstyles For Her Vegas Shows
No signs of slowing down here.
Kevin Mazur/Getty Images Entertainment/Getty Images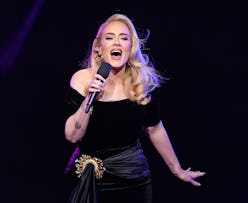 It's hard to believe Adele's Las Vegas residency has already been going for a whopping 22 weeks (and counting). What's even more mind-blowing, though, is how her hair and makeup team keep continually coming up with fresh looks for each weekend — just when you think Adele's hit peak glam, the next block of shows comes along and flips it all on its head. While all of Adele's Vegas residency hairstyles are so different and distinct, they share a few a few common threads: like Adele's music, they all feel a little retro-inspired; each style is designed to withstand a full-fledged performance; and they all have to look as incredible on-camera as they do in-person. But when you work with a celebrity hairstylist of Sami Knight's caliber, the process is bound to be a bit easier.
While every look feels in line with Adele's vintage-tinged aesthetic, they also also show off her increasingly experimental side — and with sold-out audiences from all over the world hanging on her every word at the Weekends With Adele performances, why not play around with different styles? Ahead, a look at some of Adele's best hairstyles from her Vegas residency shows so far, ranging from her tried and true classic to the delightfully unexpected.
Modern Curls
Soft, center-parted, and extremely trendy, Adele's brushed-out curls feature just enough bend and shape to really play up what looks like some long layers. For a star with such timeless aesthetics, a thoroughly modern style is always refreshing.
Half-Up Rope Braid
Fun fact: the sleek, twisted rope braid in Adele's half-up hairstyle was actually inspired by the chain trim detailing on her custom Stella McCartney gown worn for Weekend 21. Expertly connecting every piece of her on-stage look through subtle references, it's a special standout.
Brushed-Back Blowout
It's the next-best thing to seeing Adele with a full-on wet look hairstyle. With some strategic product application, her long, blonde hair stays in place for a seamless, partless effect that just feels so fresh.
Coiled Bun
Knight's updos for Adele never disappoint, but this more elaborate style might be her most detailed look of the entire residency. Starting with a deep side-part, Adele's hair is swept back into a low, sleek bun full of connected loops, coils, and curls for added whimsy.
Classic French Twist
You head it here first — French twists are making a major comeback, and you have stars like Adele and Angelina Jolie to thank for it. The time-tested updo is one Adele's worn a few times over the years, but the extra face-framing curls arranged for Weekend 10 add even more onstage glamour.
Teased Crown
Adele makes no bones about her love for the aughts, and this sleek, sultry combination of a teased crown and a slicked-down center part checks every box. A more elevated version of styles popular in the '00s, it's functional, too — note how it's still in place even as she greets fans up close.
Retro Curls
When Adele debuted this lush tangle of tighter curls, you could practically feel the internet's collective breath intake. By parting the curls to one side, it allowed them to cascade down her sculpted cheeks for a romantic effect. Perhaps the most dramatic look of her Vegas run so far, fans are already begging for a red carpet version.
Braided Bun
Glamour, thy name is Adele. For Weekend 5 of the residency, Knight created a smooth, pulled-back bun, braided and fastened just above the nape of her neck. A more elegant take on the slicked buns so popular with celebrities and on social media, it might be the most versatile look of the bunch.
Retro-Inspired Ponytail
Perhaps the closest look to a "consummate Adele" style, this larger-than-life ponytail is a retro reference, yes, but still manages to feel so distinctly her. The high positioning, major volume, and curls through the ends are cheerful and campy, helping create the coolest silhouette onstage.
'90s Blowout
If Cher Horowitz had 16 Grammys, this is probably how she'd look. Adele and Knight nailed one of the year's biggest trends with a stunning blowout, center-parted for extra '90s energy. The style's sleek nature helps show off all the shades and dimension in her blonde hair.
This article was originally published on