Have You Ever Seen A Vertical French Manicure? Adele Just Made It A Thing
Gareth Cattermole/Getty Images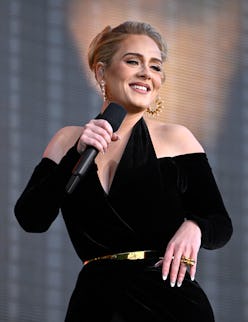 Adele is truly one of the last old-school divas, in the fashion of a Gloria Gaynor or Madonna type. Her powerhouse voice is the main draw, of course, but is also dedicated to the theatrics, the aesthetics, and the overall production value that makes Weekends With Adele an all-time Las Vegas attraction. This extends to her on-stage wardrobe, too — hair, makeup, and manicures included. Much as been made of the "Hello" singer's ever-changing hairstyles at her residency, but it's time to shift the focus. Adele's black nail design, a vertical split that gives new life to the French manicure trend, made an appearance at her most recent set of shows and might just trip you out at first glance — the whole look is something of an optical illusion.
Fans got an initial glimpse of the black-and-nude manicure over on Adele's Instagram. It looks like her long, almond-shaped nails were fist lacquered in a glossy light pink similar to the star's skin undertones. At the tips, though, where you'd expect to see a solid arc of color, one half is an ultra-shiny black while the other is that same pinky nude. In photos shot by Raven B. Varona, it almost looks like Adele's missing half of her nail. That deep shade of black blends in with the shadows in some lighting, which just adds to the entire look's creative appeal.
To further up the glamour ante, celebrity nail artist Zola Ganzorigt placed a single gold stud right where the two halves meet. Ganzorigt, who also works with stars like Hailey Bieber and Vanessa Hudgens, is behind so many of Adele's coolest manicures throughout her residency. From the looks of it, Adele seems to gravitate toward classic-with-a-twist designs — that tracks with her outfits and hair, too — like this gold embossed set from just a few weeks ago:
Throughout 2023, celebrities have been loving off-beat takes on French manicures. Kendall Jenner is loving micro-tips, SZA showed off a rainbow chrome version, and even Anne Hathaway tried invisible "alien-inspired" French manicure for an appearance at a Versace fashion show. Add Adele's new look into the mix and you're looking at a full-fledged trend — nothing left to do now but try it out for yourself.