It's Time For Nude Manicures To Get Their Due As A Forever Celebrity Favorite
Not your average neutrals.
@tombachik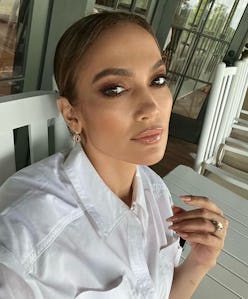 Debate all you want about which shade trend is the "new black" or the power of bright tones — in the nail world, the humble nude-colored manicure continues to win fan after fan. Once relegated to more mundane activities as a work-appropriate basic, the best celebrity nude manicures now pop up on red carpets, at award shows, and all across Instagram, seemingly in equal measure. And why shouldn't they? When you find the right nude nail polish, it can complement your natural skin tone or create a playful contrast, and make your natural nails look healthier and longer along the way.
Turning to A-listers for inspiration, the possibilities really start to open up. First thing's first — dismiss any notions of one single shade in this category. Pinks, taupes, tans, and rich browns are all nudes, too, regardless of who's wearing them, which unlocks all sorts of shade combination and pairing options. From there, feel free to let your imagination run wild. Maybe you're gravitating toward something super simple and ultra-shiny, or are looking for some subtle nail art to play up your polish.
No matter your aesthetic, undertone, or mood — there's a celeb-approved nude manicure perfect for everyone.
Hailee Steinfeld
The singer made waves with her "lip gloss nails", defined by their high-shine finish and close match to the wearer's skin tone. Nail artist Tom Bachik says the perfect shade was achieved by mixing several of them together — a couture color.
Lori Harvey
Long and matte is a powerful combination for nails. Throw a nude in the mix, like Harvey's cozy shade of chai, and it's a modern take on an all-time classic. Next to her cozy sweater and manicure-matching purse, she's fully committed to the color scheme.
Bella Hadid
This sheer nude manicure on Hadid seems to throw an ever-so-slightly shimmery cast, as if there's a micro-sparkle in the formula. Mimic it with a sheer shimmer jelly polish. To get this look, celebrity manicurist Mei Kawajiri mixed two shades for a custom formula.
Lana Condor
At first glance, Condor's warm, shiny nails are a straightforward take on nude manicures. But zoom in just a bit closer and you'll notice the thin vertical stripes cutting through the center of each nail. The minimalist art in an incredible way to dress up the classic look.
Viola Davis
It doesn't get chicer than Davis' rich brown nail polish, illuminated by a hint of a metallic finish. She opted for a color a few shades deeper than her own skin tone for contrast, a brilliant move that clearly paid off on the red carpet.
Kourtney Kardashian
Together, Kardashian and manicurist Kim Truong figured out the perfect blend of opacity, iridescent shimmer, and nude-pink shades to create this masterpiece. The combination looks even cooler and more effortless painted right atop Kardashian's natural nails.
Jennifer Lopez
This pale cream color on Lopez lengthens the star's fingers overall, with its cool finish adding a wintry layer to her overall look. As manicurist Tom Bachik put it in the caption of the photo he shared: it's the perfect weekend nude.
Tamera Mowry
It's near impossible to go wrong with a sheer pink — even mistakes are less noticeable if you're painting your own nails. It goes without saying (hopefully), but extra points if you take the time to dot on light-catching crystals.
Selena Gomez
When Tom Bachik dubbed this look "angel nails", he was spot on. First, Gomez is indeed divine. But factor in the barely-there sheer polish and the faintest hint of shimmer, and it's all ascends to become straight-up heavenly.
Jasmine Tookes
Tookes' soft, sandy brown polish would be stunning on its own, but it's the high-shine finish that makes her look feel so luxe. When you're posing next to a vault's worth of diamonds, a little sparkle always helps.
Margot Robbie
For the nail art averse, take a page out of Robbie's book and try a creative take on French tips instead. While her beds a simple, shiny nude made to match her skin, the tips are a cool, metallic chrome that look like real sliver is trimming her manicure.
This article was originally published on