Here's A Sneak Peek At The 2024 Pirelli Calendar — It's The Most Powerful One Yet
The theme is "timelessness."
Alessandro Scotti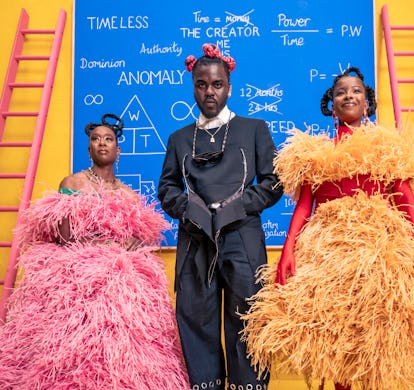 The Pirelli calendar first launched in 1964 and the annual release often features scantily clad celebrities shot pinup style — think Gigi Hadid in a tight corset for the 2015 edition or Amy Schumer wearing just underwear while holding a coffee cup in 2016. In more recent years, however, the brand has moved away from generating images with simple shock value to providing more thoughtful cultural commentary on issues like race and gender. The 2018 theme featured an all-Black cast, while the 2019 edition was inspired by the #MeToo era. And most recently, artist Prince Gyasi, became the first African and Black photographer to shoot the 2024 Pirelli calendar.
The theme for the new issue is "timelessness" along with Black empowerment; the shoot took place in both London and Gyasi's native country, Ghana. The creative tells TZR that he was excited to participate in such a special project because it meant he could share his culture and message with the world. "It was important to show everyone where I grew up," he says on a Zoom call. Indeed, this feels true to form as the artist often includes the kids in Jamestown (his district in Accra, Ghana) into his photographic work. This time around, though, Gyasi's cast was a tad bit different as it encompassed Hollywood talents such as actors Idris Elba and Angela Bassett, poet Amanda Gorman, singer Teyana Taylor, Nigerian pop star Tiwa Savage, and supermodel Naomi Campbell.
In behind-the-scenes images (the full calendar photos will be released later in the year), you get a strong sense of Gyasi's artistry and point of view. "I take elements I learned in abstract painting, picture-making, and bring that into my photography," he says. "[My work] is like they're all meeting in the middle, so that you can't tell whether [you're looking at] a painting or photograph." He is also known for incorporating bold and colorful images in pigmented hues, an aesthetic he brought to the Pirelli shoot. In one image, Gorman is wearing a bright canary-colored feather gown with red opera gloves against a mustard hued background; in another, Campbell stands tall against a golden backdrop of a molten-edged timepiece motif.
Gyasi has synesthesia, where you can experience more than one sense at the same time. (Some examples include when you hear music and see shapes or you hear a word and see a color.) This sensory experience allows him to create cool hyper-colorful universes that other photographers may not be able to tap into in the same way. "I associate words with colors ... when you say 'Naomi,' I see the color green. When you say 'Campbell,' I see white," he explains, sharing his thought process for creating the supermodel's backdrop. "But then, green and white didn't work for this [Pirelli set], so I went to the word time-stopper. When I hear 'time,' I see orange, so what is close to orange? It's gold." He adds that being on set felt like being around family because he's worked with stars like Campbell in the past and they're friends at this point, which made the shoot experience all the more memorable.
Ultimately, the message Gyasi wants to share with fans through this Pirelli calendar is one about community, love, and finding one's own voice. His best advice for achieving the latter? "Know what you want at the end because if you know the ending, you know how to start," he says. "And because you know the end, no matter what happens in between the journey, you just keep on moving."