Now Is Designer Kwame Adusei's Time To Shine
He's been quietly working behind-the-scenes for over a decade.
Kwame Adusei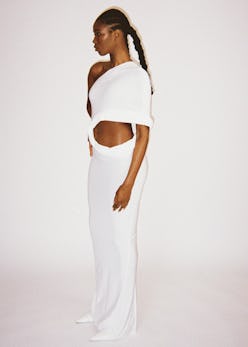 Try Googling designer Kwame Adusei and you'll find publications calling him an "emerging talent" who's dressing all the stars: Beyoncé, Lori Harvey, and Kylie Jenner have all recently worn his creations. All these details might appear impressive given that Adusei only launched his namesake label in 2021, but his rise to fame has been years in the making. He's not a fresh Central Saint Martins grad with zero work experience nor is he a nepo baby who happened "to fall into fashion." Instead, he has quietly designed for well over a decade before Hollywood even took notice, with most of his time spent creating both custom pieces and ready-to-wear for his label Charlotte Prive in Ghana.
It was a visit to the United States in 2017 that inspired Adusei to move from Ghana to Los Angeles in order to further his design dreams. "I wanted to come to a place where there's so many different body types, a lot of different people, different cultures that I can tap into and be inspired by," he tells TZR. When he landed on the West Coast in 2019, however, the designer didn't have the networks needed to get ahead in Hollywood's fashion scene. Enter: Tatiana Roache, founder of marketing and public relations firm Zion Agency.
"When we met, it was crazy because it was a month after he started his own brand," says Roache of their first meeting, which was through a mutual friend. Roache now spearheads all the press relations and marketing initiatives for the designer. "My background is in PR and marketing, so we aligned his [technical and creative] talent with my knowledge of the fashion industry. It can be hard to maneuver through the Hollywood landscape if you don't know it."
The following year, with the help of Roache, Adusei hosted his first runway show in downtown LA at Soho Warehouse. For his Resort 2022 collection, he pulled inspiration from SoCal style by honing in on the minimal, free-spirited yet edgy aesthetic. The tan and pink looks were inspired by his love of deconstruction. Pulling ideas from Ghanaian architecture, he incorporated design elements of the Larabanga Mosque — one of the oldest mosques in Ghana — into the set decor.
Resort 2022 CollectionCourtesy of Kwame Adusei
It wasn't long after his LA debut that celebrities (or, at least, their stylists) began to take notice of the emerging brand. Soon, he was creating a white custom minidress for Jenner to wear in August 2022, and Halle Bailey wore his Kaju set in Latto's "It's Givin" music video that same month. But it was Harvey wearing a sultry cutout number, called the Kabun, that really caused a commotion. "It did very well on social media and had a viral moment via Twitter and Instagram," recalls Roache. "It was actually a really defining moment for the brand in terms of internal growth."
Jenner in a custom lookBACKGRID
Dressing lauded celebrities with specific fashion POVs comes naturally to Adusei, as he's had plenty of practice with discerning customers. When he started designing at 22 years old, his first clients — his sisters — were his harshest critics. "They were very brutal," he tells TZR. "They tell you 'I don't like this' or 'this is ugly, I will never wear this color,' so I learned a lot from [their requests] because I wanted to survive as a designer." As for his exacting approach to each item? This comes from years of experience. "In Ghana, [everyone wants a] custom piece [to stand out]," he says, citing the type of requests he'd receive from customers. "People will have like three yards of fabric, take it to their tailors, and be like, 'Hey, I want to look like Rihanna.' They'll show you a photo of Rihanna [in an outfit] and ask, 'Can you make this for me?'"
As Adusei started finding his footing in Los Angeles, he closed the other fashion chapter of his life — the pandemic forced him to shut down his Charlotte Prive stores in Ghana. Instead of dwelling on this loss, however, he turned his attention to his budding Cali-based brand. Unlike Charlotte Prive, which specialized in contemporary creations such as sheer blouses, easy summer dresses, blazers, and tailored dress pants, the Kwame Adusei line focuses on creating edgy pieces that are sexy and practical while also paying homage to his culture. "I get my inspiration from merging my design background from Ghana with the energy in the U.S. — the way women want to be independent, the way they want to move, and feel sophisticated," he explains.
Charlotte Prive designsCourtesy of Kwame Adusei
Fall/Winter 2022 Collection
Fall/Winter 2022 Collection
Adusei's Fall/Winter 2022 collection was a reflection of this vision. The styles draw design inspiration from what African peoples wear to ceremonial events, like headpieces, to create bold runway-ready looks. "The Kamiayah dress was a modern version of the Nigerian BouBou," he says. "The Katen dress, which first appeared in white in the Resort 2022 collection, shows up in black with a silver chain. This look was inspired by the way Ghanaians drape Kente cloth during their ceremonies. Traditionally, the Kente cloth is draped across the shoulder and wrapped around the body as a full garment."
Although Adusei's pieces are categorized as womenswear by the industry, he hesitates to assign gendered labels on his creations. "I don't know if you've seen some of our traditional outfits from Ghana, but we [traditionally] did not have 'male' and 'female' clothing. This idea was the result of post-colonization, where we now have 'oh this look is for men,' 'this is for women.' I am trying to go back into time to kind of blur these [strict] lines because I don't like the classification," he says, touching on fashion's slow embrace of genderless fashion. A prime example of how his designs can feel gender fluid is the aforementioned Katen dress, which Harvey actually wore for her 26th birthday back in January 2023.
The Akoma Ntoso symbolCourtesy of Kwame Adusei
Perhaps the most obvious representation of Adusei's Ghanaian roots, however, is his brand logo, an Akoma Ntoso symbol that translates to "linked hearts." The image comes from the Ashanti tribe and is the Akan language of West Africa. "The definition [of the symbol] embodies understanding and agreement," says Adusei. "Promoting unity amongst families and communities. It's important for me to build a community rather than build a brand."
That said, Adusei is far more comfortable working behind the scenes than playing the online networking game that's increasingly important for a young label's success. Places like Instagram, after all, often serve as a network hub for creatives. The designer acknowledges that managing his socials while designing is quite the juggle given that he's running a small business. He has always prioritized designing, but this year he vows to put himself more in the public eye.
"My whole life has just been about designing, being quiet, not being loud on social media," he says. "But I want to do more appearances and let people see me. I feel like they want to connect with [the person behind] the brand. This is the future." And as for Adusei's future? It's looking quite bright.