Hollywood Is Cramming A Year's Worth Of Glam Into The Venice Film Festival
Nothing quiet about this luxury.
Jacopo Raule/Getty Images Entertainment/Getty Images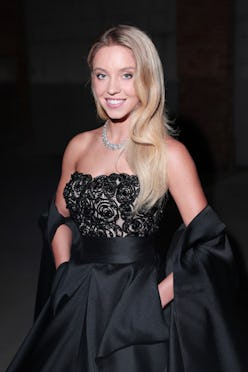 Regardless of your feelings on the whole end-of-summer thing, it can collectively be agreed upon: one of the best things about this weird, transitional season is the annual Venice Film Festival's beauty looks. No matter how many other celebrity-heavy events or award shows may be ahead (or may not be, SAG-AFTRA strike dependent), something about the temperate Mediterranean air, outdoor red carpets, and wide range of event formality always brings out everyone's aesthetic best. A late-night premiere might call for extreme, old-school drama, for example, while a daytime photocall or luxury brand-sponsored parties consistently attract playful, more experimental hairstyle-makeup combinations. If you're charging full-force into fall beauty or still clinging to the sweet simplicity of summertime, Venice's A-list attendees have something for every sort of sensibility.
The festivities only kicked off on Sept. 1 and they've already delivered so many notable moments. You could practically feel Italy taking in a collective breath when Kerry Washington debuted her party-perfect lob, paired with dramatic lashes and sparkly makeup to match her minidress. Meanwhile, on-screen sisters Sydney Sweeney and Maude Apatow looked like real-life siblings as they embraced maximalist, retro-inspired hairstyles for a makeshift Euphoria reunion on the red carpet. Ahead, some of the 2023 Venice Film Festival's best beauty moments so far, with even more to come.
Amal Clooney
With her artfully-placed highlights and warm bronzer — not to mention that especially ethereal-looking shimmer eyeshadow — Clooney keeps the summer spirit alive at the festival's DVF Awards. Dimitris Giannetos handled both her hair and makeup for the night, creating her look with Charlotte Tilbury cosmetics.
Sydney Sweeney
Sweeney's made a few appearances at the festival this year, but her vintage-inspired gown and off-center curls at Giorgio Armani's One Night In Venice event harken back to Hollywood's earliest days. As an Armani Beauty muse, she wore a full face of makeup by the brand, including her soft cat-eye created by celebrity artist Melissa Hernandez.
Kerry Washington
Artfully combining free-spirited summer beauty with an exciting holiday party preview (so much sparkle), Washington's radiant, pink-highlighted cheeks and shiny medium-length hair create the sort of look you immediately add to the F/W 2023 vision board. Celebrity hairstylist Rio Sreedharan and makeup artist Billie Gene brought it all to life.
Sadie Sink
Fresh-faced and glowing in a pared-down Armani Beauty makeup look and pulled-back hairstyle that puts the focus on her daring, jewel-covered gown, Sink's understated glamour is thanks to makeup artist Nina Park and hairstylist Tommy Buckett.
Camila Mendes
Sultry? Check. Sophisticated? Check. Somehow also perfectly lining up with so many of the internet's favorite beauty trends of the moment. Mendes' high, artfully-undone updo and its trailing, face-framing pieces mirror the fabric and movement in her gown — the work of hairstylist Peter Lux.
Maggie Gyllenhaal
It doesn't get chicer (or more perfectly European summer-y) than Gyllenhaal in a crisp white button-down with Emma Day-applied red lipstick and the ultimate pixie. Her glamorously gamine cut was expertly tousled by hairstylist Tommy Buckett.
Carla Bruni
Hello, eternal elegance. Bruni's soft side-bangs are so sultry and timeless, but her eye color-emphasizing "latte makeup" is so fun and so now. Celebrated artist Massimo Serini handled both her hair and cosmetics for Venice's big amfAR gala.
Dominique Fishback
Miu Miu's 26th annual Women's Tales project celebrates the brightest young stars in film — Fishback and her long, highlighted twists and rose-tinted makeup are the perfect example, too. Hairstylist Dionne Smith nailed voluminous updo, while Billie Gene supplied the flower-fresh cosmetics.
Maude Apatow
The perfect counterbalance to friend Sweeney's dramatic black gown, Apatow lit up the Armani event with an elaborate silver gown and an equally-shiny updo by Peter Lux. She too went the rosy makeup route, with bud-colored lips and smoked-out cat-eye makeup by Mélanie Inglessis.
Barbra Palvin
Hairstyles don't get any more sultry than this retro-referencing updo on Palvin, constructed by celebrity pro Owen Gould. By strategically incorporating several clip-in Hidden Crown Hair extensions in complementary shades of blonde, Palvin's Brigitte Bardot-inspired look gained extra length, volume, and dimension for a standout red carpet moment.