Margot Robbie's Retro-Inspired Barbie Ponytail Sets The Tone For Her Entire Movie Tour
@brycescarlett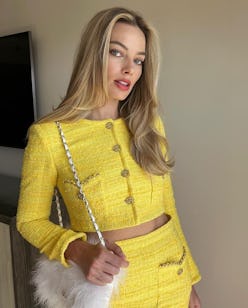 There were two aesthetic all-but-certainties when the cast of Barbie first embarked on their dizzying global promotional tour: there would be a lot of pink and there would be a many impressively perky ponytails. A swingy updo is a central element of the iconic doll's instantly recognizable look, so of course leading lady Margot Robbie and her team started their whirlwind schedule with an homage to the hairstyle that started it all. Robbie's retro Barbie ponytail isn't a painstaking recreation of the 1959 original — those curled-up bangs are really something else — but rather a more glamorous reimagining that still evokes the same feeling.
From the very first event on the Barbie film press schedule, Robbie's hair, makeup, wardrobe, and nails have all been clearly meticulously chosen and crafted. Some are direct recreations of Barbie's best looks, but most often, they're creative, modern takes that use the doll as a jumping off point. For the movie's Australian kickoff event, Robbie wore a custom Hervé Léger bandage dress designed to look like Barbie's original '50s swimsuit, while celebrity hairstylist Bryce Scarlett gave her a high, glossy ponytail with vintage curl and a some of side-parted bangs coiling down around her retro cat-eye sunglasses.
So much of the updo's throwback glamour hinges on its placement and texture. By securing the ponytail in the center of her crown, Scarlett keeps the look from veering to cheerleader (as is often the case with very high ponytails) or too gym-ready utilitarian (the result of it sitting a bit lower). The curls seen throughout the length also get tighter at the ends, which helps heighten the late-50s feel.
Celebrity makeup artist Pati Dubroff worked on Robbie's cosmetics for the trip, sharing a behind-the-scenes photo of the star wearing the same ponytail. Her Dubroff-applied strawberry lipstick and bold, defined lashes help fuel that retro effect, all underscored by a timeless red manicure courtesy of celebrity nail artist Jocelyn Petroni.
As the Barbie movie machine rages on, expect to see plenty more retro references in all of Robbie's looks — can you even imagine what she has in store for the global premiere?