Megan Fox's Latest Trick? Making 14-Plus Inches Of Hair Magically Disappear
Jerritt Clark/Getty Images Entertainment/Getty Images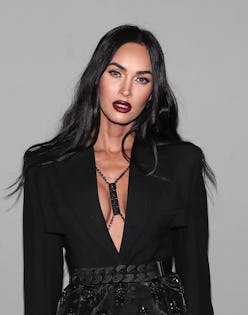 Few things can get the heart racing like a notification that Megan Fox has just posted some new Instagram content. Regardless of if she's sharing a beloved song on her Story, promoting a new collaboration, or simply dropping the hottest selfie known to humankind then leaving, her online activity is always worth checking out — especially now that she's wiped almost her entire feed clean. Fox's uploads are pretty few and far between now, but it makes the stuff she does share all the more exciting. Case in point: Fox's new medium-length hair, shared as part of a sultry, bikini-highlighting photo carousel. Though shared with one of Fox's usual cryptic captions, the message is clear: nothing's better for a scorching summer than an idyllically in-between hair length. And maybe a itty-bitty bathing suit, too.
Fox's initial return to Instagram came in late May, a photo of herself from her Sports Illustrated Swimsuit Issue cover party. Her bright copper hair falls all the way to her hips — its usual length in recent sightings — and styled in a wet look, one of Fox's favorites. Her second Instagram post, though, is where things get fun. Captioned with "ace of cups + the star", a Tarot card reference, Fox is seen in a black bandeau bikini on the couch and on the beach, her hair hitting just past her shoulders.
Crucially, it must be noted that Fox could have gotten a haircut or she could have simply removed her extensions (the likeliest scenario), but the dramatic shift has the same effect either way. Fox's ultra-long, mermaid-worthy waves are undeniably whimsical and more than a little fun, but the comfort, movement, and versatility of a medium-length haircut can't be undersold — a full-on best-of-both-worlds scenario.
The major length shakeup comes on the heels of a color transformation as well. Fox has dabbled in red hair many times before, but this latest go-round only arrived in time for spring. Back at the Grammy Awards in February, Fox appeared with her trademark shade of glossy raven.
Perhaps the adjusted length means Fox is gearing up for another huge hair moment — something seems to be in the air, and it's bound to yield some excellent summer beauty inspiration.