Cardi B Wore Two Diametrically Opposite Manicures In The Same 24-Hour Period
A little fire, a little ice.
Pascal Le Segretain/Getty Images Entertainment/Getty Images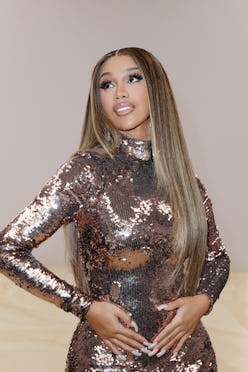 Through a strategic schedule or just good old fashioned divine intervention, the stars aligned for Cardi B to be in her native New York for a promotional press tour during Fashion Week. As a true lover of all things sartorial, even Cardi's casual weeknight dinner looks feel runway-worthy — which means everything she's wearing right now in the city (including her beauty choices) is dialed up several notches. In fact, in one 24-hour period alone, she showed off two totally different yet extremely intricate manicures. Cardi's long, square nails were cherry-red when first spotted as she made her way to and from a few appointments on Sept. 10. The next day, for a taping of Andy Cohen's late-night live show, she appeared in a blue-and-silver jewel-encrusted set far more elaborate than the fruit-colored mani. While the manicures are polar opposites, they share Cardi's overall penchant for high-glam and it-colors of the season — are red nails ever not in style?
Admittedly, the nearly-neon shade of red is actually one of Cardi's more pared-down looks of the year. It's not too often that she goes for one single color all-over without any extra adornments, but her long, square-shaped nail extensions make them feel so luxe regardless. As she wove through the city streets in a Hanifa dress with her entourage in tow, the bold cherry both stood out and fit in tonally with the rest of her look.
But by Monday, Sept. 11, she had fully traded the set out in favor of a sparkling masterpiece designed to perfectly complement her icy blue gown on Watch What Happens Live. While Cardi's go-to nail artist, Jenny Bui, is likely behind both incredible looks, no official credit has been found yet. In the meantime, just take in all the aquamarine, navy, and teal flecks embedded in the especially-glamorous blue set — not to mention Cardi's pumped-up curls.
With just a day left in New York Fashion Week, there's still time for Cardi to extend her ever-changing nail looks into a three-peat — but knowing her, there's plenty more to come at the international shows. Stay tuned.