Don't Write Off Hair Masks As An Unnecessary Step This Winter
The key to fighting seasonal dryness.
@myceremonia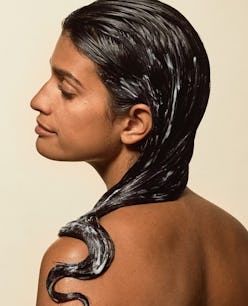 We may receive a portion of sales if you purchase a product through a link in this article.
When the weather cools down, there's plenty to celebrate. Sweater season, warm beverages, and throw blankets are just a few reasons to love the fall and winter seasons. But the chilly air can lead to frizzy, dry, and limp strands. David Mallett, hairstylist and owner of the namesake salon in New York City and Paris, says that the hair fibers "tend to rebel" when introduced to change, especially atmospheric shifts, and this stress can physically alter your texture. That's where hair masks for dry hair come into play.
"The more the hair is conditioned and hydrated, and the more foundational strength it has, the better equipped the hair is to resist external aggressions," Mallett explains. He adds that even colder temperatures can have humidity in the air, which can shock strands and make them brittle or even snap apart. Incorporating a hair mask into your routine at this time of year can ensure that your strands gets the nourishment they need in order to look and feel healthy.
Ahead, hairstylists provide a crash course on the essential cold weather hair care product, including what masks do, how to use them, and the best ones to use for your hair texture.
What Is A Hair Mask?
Annagjid "Kee" Taylor, celebrity hairstylist and founder of Deeper Than Hair, says that a hair mask deeply penetrates strands with highly concentrated ingredients that deliver more intense results than just shampoo and conditioner alone. The frequency that one should mask really depends on hair type. Those with fine hair should use one every ten days or so not to weigh down strands. For medium types and those who wash infrequently, Mallett recommends masking once a week. But textured or dry hair requires a bit more attention. "I have some clients with extremely dry hair that can replace using a conditioner with a mask because of their superior benefits," he says.
How Do You Use A Hair Mask?
If you don't like the idea of having to get in and out of the shower to let a mask marinate and then rinse it off, there are ways around it. Spritzing hair with a water bottle and then applying the treatment (even your strands are simply damp) is a great option if you're in a time crunch. Alternatively, Mallett says you can wash their hair over the sink and then apply the mask and let it sit for about half an hour before getting into the shower. To level up the results, wrapping the head in a warm, damp towel will encourage the hair to further absorb the product. "In France this type of head wrap is known as a 'serviette chaude', but you could also use a shower cap," he offers.
The Best Hair Masks For Your Hair Type
Hair Masks For Fine Hair
Fine hair tends to get flatter in cold months, so Mallett suggests avoiding any products that contain a lot of silicones and/or anything too hydrating, as strands can get weighed down. "Fine hair requires a mask which fortifies the hair, but which is lightweight and breathable," he says. Taylor adds that this hair type tends to break more easily this time of year and likes masks that help protect the strand's surface. She recommends NatureLab.Tokyo's Perfect Repair Treatment Mask as it contains vegan keratin, which leaves you with softer, healthier hair – even during the cooler months. Another solid option is Guerlain's Double Radiance and Revitilization Mask, which is powered by black bee honey from France, which helps strengthen strands from within.
Hair Masks For Textured Hair
Taylor says that textured hair types are typically on the drier side, so using a mask that's moisturizing during that cooler months is key. "I really love the Deeper Than Hair Detox Conditioner, which is great for intense hydrating and it's also really great for balancing your scalp pH," she says. Mallett adds that those with textured hair should also look for masks that nourishing but lightweight. "I suggest steering clear of anything too heavy, especially silicones." Pattern Treatment Mask defines curls with moringa seed extract and hibiscus without weighing hair down.
Hair Masks For Dry Hair
"For very dry hair, my absolute favorite products are those which contain extracts of Shea Butter or Coconut Oil," says Mallett. "This hair type benefits the most from hair masks, as it always requires conditioning, hydration, and moisturization, and that is what the mask can offer." Taylor likes Chébiotic Hair Mask by Salwa Petersen as it delivers deep conditioning properties repairs dry, damaged strands without weighing it down. Superfoods like mango, shea butter, and avocado in California Naturals Hair Masque for Dry and Damaged Hair will also give hair a nutrient-rich boost of moisture.
Hair Masks For Frizz-Prone Hair
Mallett says that frizz-prone hair can be tricky. "If it's very fine and frizzy, it's so important not to over-charge the hair with products – make sure that your shampoo, conditioner, and mask are always rinsed thoroughly," he says. Taylor says this hair type also calls for intense hydration and repair. "Andrew Fitzsimons Virgin Repair Restructuring Hair Mask is a great option for this type of hair as it deeply conditions and softens strands using a proprietary technology for improved elasticity and overall health," she says. Another fool-proof pick is Ceremonia's Deep Conditioning Hair Mask which has nourishing stuff like murumuru Seed Butter and Babassu Oil.