These Hair Colors Will Rule 2024, But You Can Try Them Right Now
@dvcolour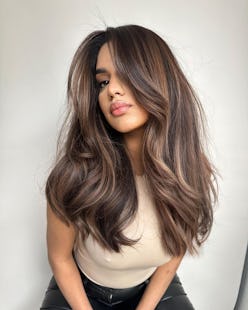 We may receive a portion of sales if you purchase a product through a link in this article.
While it's fun to experiment with your beauty looks whenever the mood strikes, the start of the new year always ignites the desire to majorly change your current hairstyle. After all, a fresh haircut or color can be extremely transformative. As far as the latter goes, with so many viral shades flooding your social media feeds, choosing one can be a struggle. Thankfully, the 2024 hair color trends can make the decision a lot easier. Looking ahead, the industry's top colorists predict that the next 12 months will be an eclectic mix of fun hues.
Some of these looks, like cowgirl copper, have remained popular throughout 2023. While others, such as cherry cola, are just beginning to take off. But if there's one thing to look forward to in 2024, celebrity colorist Guy Tang, says it's variation. "There are a variety of options to play with, and the goal is less about choosing a trendy color and more about finding one that expresses your personality," he says. That said, Tang notes that there's still room for classic hues for those who prefer a traditional look.
If you've been on the fence about changing your hair color, there's never been a better time to take the leap. Ahead, TZR tapped four colorists and celebrity hair stylists for their thoughts on the most exciting colors to look forward to in 2024.
Blonde Trends For 2024
Though icy platinum versions are poised to take off for winter, celebrity hairstylist, Karen Miller notes that the rest of 2024 will be about a low-maintenance look. "Double processing often means more upkeep," she says. With people leaning into natural colors, she tells TZR that a softer version of the beloved color will be more ideal. Golden hues with soft undertones will also have a moment. Instead of brightening highlights, this color uses a combination of blonde shades and has a diffused effect.
Not ready to go full-on blonde just yet? Tang says that bronde shades can be a good alternative. "It's the perfect balance between warm tones and rustic hues," he says. Though there are a few ways to achieve the perfect bronde, balayage offers the most natural look. "The goal is to elevate your hair without overwhelming the natural color," says Jan Spagnuolo, stylist director at the Rossano Ferretti Hair Spa in New York City. He recommends opting for a sun-kissed shade that will give the final shade a reflective feel.
In keeping with the low-maintenance trend, Spagnuolo notes that it's important to choose a version of the hue that best fits your lifestyle. "Adding dimension with a metallic toner can help keep the color looking shiny longer so you can avoid frequent touchups and trips to the salon," he says. When done correctly, it not only prolongs the look but helps maintain the integrity and beauty of natural hair.
Brunette Trends For 2024
Despite being a timeless hair color, brunette offers a lot of versatility for experimentation. While 2023 delivered a few trendy versions, like expensive brunette, Miller says that this year the hue becomes more dimensional. Think of highlights and lowlights that bring additional warmth to standard brown shade. As she tells TZR, more people are beginning to embrace their natural color and are looking for ways to enhance it.
Similarly, Lauren Mildice, a colorist at Maxine Salon in Chicago, adds that deeper and richer browns are captivating in a classic way. "Chestnut, for example, is becoming a popular choice and really takes the traditional color to the next level," she says. Instead of flat and one-note, 2024's brunettes have dimensional elements that feel lively and fresh.
Red Trends For 2024
This year was major for red hair. In fact, celebrities such as Megan Fox, Emily Ratajkowski, and Megan Thee Stallion all sported various shades over the last few months. However, according to Tang, that was just the beginning. "If you thought cowgirl copper was a phase, you're wrong. The energetic shade that blew up during fall is here to stay," he says. Miller agrees, noting that the unique hair color is still going strong thanks to its versatility.
According to Tang, copper isn't the only buzzy red bound to take off next year. "Cherry cola, also known as Cherry Coke hair, is quickly becoming a popular option," he says. Whether a sleek leather trench or cool manicure, you may have noticed the deep burgundy color with dark brown accents popping up everywhere on social media lately. As Tang explains, warm tones are trending big time for 2024, and this cozy shade fits in perfectly.
Red is notoriously hard to maintain, but that hasn't lessened people's desire to try the color out. If you decide to take the plunge on one of these hues, Tang recommends investing in a heat protectant spray to shield your strands when using hot tools. "Heat damage is known to cause fading, so it's crucial to have protection," he says.
Maintaining Your New Hair Color
There's nothing worse than noticing your once-vibrant color is beginning to look washed out. While touchups and salon appointments will keep it looking fresh, you can also maintain it at home. "A personalized hair care routine that caters to your new shade is the best way to take care of your look," says Spagnuolo. By nature, color-treated hair is more prone to breakage, so you'll need to use an assortment of products that restore health from the inside out. "You have to make sure that you keep your hair healthy, and that means adding conditioning treatments to your routine," he says.
It's also beneficial to swap out your shampoos and conditioners for color-safe options that won't strip away natural oils. As Miller notes, these types of cleansers not only prolong the vibrancy of your shade but ensure your strands stay healthy over time. "Look for formulas with naturally derived ingredients that work to balance chemically treated hair," says Spagnuolo. Overhauling your routine may feel like a chore, but as the experts explain, it will be worth it in the long run.