These Celebrity-Approved Hair Trends Have '90s Written All Over Them
Edward Berthelot / Contributor/ Getty Images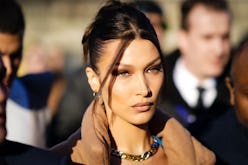 Before the second wave of butterfly clips, chokers, and scrunchies hit, it would have been considered a capital sin to look through your junior high school yearbook seeking any sort of fashion or beauty inspiration. Nevertheless, here you are, years later, attempting to recreate those chunky highlights you once thought were so cringeworthy. Indeed, '90s hair trends are in — like, pretty much all of them — and in case you don't have that yearbook handy, here are nine celebrity looks to get the throwback juices flowing.
Between Selena Gomez's interpretation of The Rachel and the sudden resurgence of half-up space buns (looking at you, Hailey Bieber), the current hair era is looking more '90s than even the '90s themselves. You've got Beyoncé bringing back her Destiny's Child money piece streaks, Kendall Jenner and company constantly twisting their tresses into old-school claw clips, and don't even get started on the face-framing tendrils.
It's only a matter of time before everyone breaks out the crimpers and flips the ends of their bobs — oh wait, Kim Kardashian has already beat you all to the punch. If you're prone to flashbacks of embarrassing pre-teen years, then look away now. Ahead, nine celebrity-approved '90s hair trends to try out this summer.
This article was originally published on