Kim Kardashian Debuted Platinum Blonde Mermaid Hair In The Latest KKW Beauty Campaign
ANGELA WEISS/AFP/Getty Images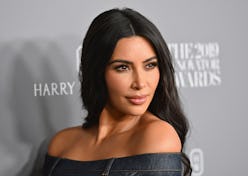 You already know about all the products in the upcoming Celestial Skies collection, but — equally importantly — did you see Kim Kardashian's long blonde hair in the KKW Beauty campaign? The cosmetics mogul promoted her new launch with an Instagram photo of herself sporting platinum, wavy, mermaid hair down to her rear. Now this is a departure, even for a chameleon like her.
With all the excitement surrounding the reveal of 10 new KKW products — three eyeshadow palettes, two blush palettes, and five lip crayons, all available at noon on Jan. 24, by the way — Kardashian's new look didn't get the attention it deserved. Now that her Instagram feed is almost overflowing with photos of her blonde mane against a series of ethereal scenes, it's time we all start actually paying attention.
It isn't too often, after all, that the Skims founder rocks a blonde shade and knowing her, it's only going to last as long as the campaign. That was indeed the case last July, when she went blonde for the launch of Sooo Fire, then went back to black pretty much the following day.
Nonetheless, any Kim K. hair change is a welcome hair change, even if it is merely a KKW launch tradition.
The look Kardashian debuted on Weds. is long and styled in seemingly natural waves (even though her Instagram Stories this past fall proved that her natural hair looks nothing like this). In fact, it's even a little bit frizzy, but in a sort of cool, just-showered way.
Her longtime hairstylist, Chris Appleton, was the brains behind the look. After the campaign went live, he took to his own Instagram to explain how he creates the "mermaid wave" — with the Mermade Hair Waver, of course — although he did not exactly confirm whether this is what he used to create Kardashian's latest look.
Never mind that it's probably a wig; this hairstyle is apt to create a wave of future trends (get it?), from the crimpy texture to the intentional dark roots. Come summer 2020, butt-length hair will replace the bobs that reign today.