The Exact Skin Care Products You Should Use In Your 40s, According To Derms
Pascal Le Segretain/Getty Images Entertainment/Getty Images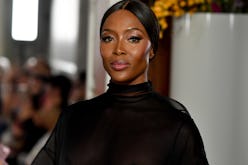 Skincare would be so much easier to navigate if once you found your personal "holy grail" products, you could use them forever and keep seeeing results — but sadly, the skin just doesn't work that way. Thanks to things like seasonal changes (dryness in the winter, clogged pores in the summer), hormonal shifts (from puberty to pregnancy to menopause and beyond), and pollution and sun exposure, your skin's unique needs are always in flux. Add getting older to the equation, and it's clear: The ideal skincare products to use in your 40s probably aren't the same ones you reached for in your 20s.
"For women in their 20s, the focus is often on oil control and preventing hormonal breakouts," Dr. Heather Woolery-Lloyd, a dermatologist known as Dr. Heather, tells The Zoe Report. These issues (thankfully) tend to clear up as you age; she notes that only 26 percent of women have acne in their 40s as compared to 50 percent of women in their 20s. The oil and acne of your youth are gradually replaced by dry skin, fine lines and wrinkles, and a loss of elasticity, though — so, yeah, your skincare routine deserves an upgrade.
"In the 40s, the skin may have switched over from oily to being dry," Dr. Heather tells TZR. "Hydrating products are generally better in this age group." Since studies show that lack of moisture actually contributes to the appearance of lines and wrinkles, now's the time to stock up on hydrating essentials. Add an oil cleanser like One Love Organics Vitamin B Cleansing Oil to your lineup to cleanse without stripping the skin of its natural oils, and consider incorporating an essence (Vintner's Daughter is about to launch a game-changing one) as well. Look for serums and moisturizers that boast ingredients like hyaluronic acid or snow mushroom; both have been shown to dramatically affect skin's hydration levels (in a good way).
"Collagen production tends to slow down after the age of 30," Dr. Joshua Zeichner of Zeichner Dermatology in New York City tells TZR. After that, you lose about one percent of your skin's natural collagen stores per year — which is a significant amount by the time you hit 40. "The skin has less elasticity, and when stretched it takes longer to 'snap back,'" Dr. Heather explains. "Fine lines and wrinkles, especially around the eyes, start to become more prominent." The dermatologists suggest that you counteract these issues in two ways: by using vitamin C to build up collagen, and reaching for retinol to treat fine lines.
"Besides its role as a potent antioxidant, vitamin C is an essential cofactor for the production of healthy collagen," Dr. Zeichner says. In other words, it'll stimulate your skin to create more of the good stuff and keep the signs of aging to a minimum.
"Retinol is best to treat fine lines and wrinkles," Dr. Heather adds. "In the skin, retinol is converted into retinoic acid, which binds receptors to increase cell turnover rate." This increase in cellular turnover results in "smoother, more even skin," the dermatologist says. Thanks to the recent rise in over-the-counter retinol formulas, you'll have no trouble finding a product that works for you — beginners can start with a few drops of MARA Beauty Algae Retinol Oil (packed with plumping oils to mitigate any possible irritation from retinol), while retinol veterans should reach for Sunday Riley's brand new A+ High-Dose Retinoid Cream.
"In addition, retinoic acid inhibits matrix metalloproteinases, or MMPs," Dr. Heather tells TZR. MMPs are the enzymes that break down collagen; thus, by inhibiting MMPs, you can improve fine lines and wrinkles. Manuka honey has been shown to have a similar effect on the collagen-killing enzymes, and L'Oreal's new Age Perfect Manuka Honey range was specifically designed to support aging skin in this way.
"Freckles, brown spots, and uneven skin tone from the sun become more prominent in the 40s, especially for those who did not practice good sun protection in their younger years," Dr. Heather says. "Some studies suggest that an uneven skin tone impacts the appearance of aging even more than fine lines and wrinkles, so maintaining an even skin tone as you age is equally important." To lift any dark spots or patches of hyperpigmentation, the derm is a fan of skin brightening ingredients like licorice (for the natural beauty lovers) and niacinamide. Vitamin C serums and exfoliating acids are helpful in this area, too — and Tatcha's latest release, Violet-C Brightening Serum 20% Vitamin C + 10% AHAs, has both.
Finally, "The skin on the neck and chest starts to change texture and lose elasticity," Dr. Heather tells TZR. This is often exacerbated because most people aren't diligent about applying daily sunscreen to the neck and décolletage. It's a good idea to incorporate specific neck and chest firming treatments, like Perricone MD Cold Plasma+ Neck & Chest Broad Spectrum SPF 25, into your routine. But the best thing you can do? Start getting serious about daily sun protection — for your face, neck, chest, hands, and any other exposed area — ASAP.
As you reach your 40s, what you remove from your skincare routine is just as important as what you add to it. To that end, Dr. Heather suggests avoiding products with added fragrance, as "some women are more sensitive to heavily perfumed products with age." She also recommends skipping out on "overly drying astringent products," like alcohol-heavy toners, since they may exacerbate textural changes and make the skin look older.
Whew. While all of that may feel overwhelming, it shouldn't be overlooked that shopping for a brand new skincare routine can be kind of fun. (Who doesn't love opening a big box from Sephora, right?) Ahead, the 17 derm-approved skincare essentials that every woman in her 40s needs.
Shop Skincare Essentials