Game-Changing Makeup Tips You Need In Your 40s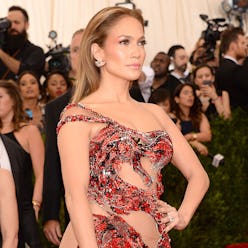 Your 20s are all about learning lessons, your 30s are dedicated to editing your beauty stash—and your 40s are when you truly refine and perfect your look. This is the decade for minor tweaks that make a major difference. From youth-boosting foundation to flattering lip shades, here are the seven makeup tips your beauty routine is missing.
40 And Fabulous
Start With A Blurring Primer
Unlike regular primers, blurring formulas soften and hide fine lines for a more youthful-looking base. Be sure to press the primer into your skin rather than swiping it on like a moisturizer. Is it just us, or do expression lines around your eyes, forehead and mouth not diminish overnight like they did in your 30s?
Apply Liquid Foundation
When estrogen levels start to decrease, skin can look and feel dry. Powder makeup can dehydrate skin and settle into fine lines, which only accentuates them. Instead, use cream-based products that keep skin dewy and hydrated, and apply them with a damp makeup sponge for a flawless finish.
Opt For A Rosy Lip
A deep shade of lipstick gives the illusion of thinner lips, which, in turn, ages you. Choose corals and pinks to help define while adding a youthful flush. If you like a dark hue for an evening out, go for a glossy finish.
Make Your Brows Look Fuller
Changes in hormones can cause hair to thin, and this may include your brows. Instead of filling in your arches with a dark brow pencil, use a fiber gel to create the illusion of more individual hairs for a much more natural result.
Accentuate Your Crease
If your eyes don't seem as bright and wide as they once did, all you need is a little bit of matte brown shadow. Work it into your crease to create the illusion of bigger eyes.
Use A Navy Eyeliner
Swap your stark black liner for one in on-trend navy. It won't look much different, but it will subtly make the whites of your eyes pop without highlighting crow's-feet. (In other words: Others will know you look more youthful, but they won't be able to put their finger on why.)
Refresh Your Makeup
Makeup has a way of dehydrating skin, highlighting fine lines and wrinkles. Keep a face mist in arm's reach for a midday refresh.