Dua Lipa's Latest Project? Resurrecting This Beloved Y2K Hair Trend
@dualipa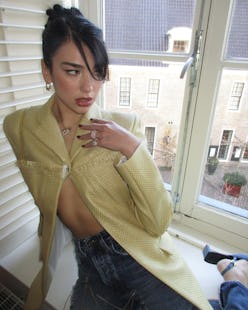 With every passing week, Dua Lipa further cements her reputation as the one pop star bridging the generation divide. Her biggest album is steeped in '70s-era disco sounds, she's got a penchant for '80s design motifs, and she's been known to pull from '90s fashion archives to suit her completely unique aesthetics. Beauty-wise, though, Lipa's always been firmly in this millennium. Dua Lipa's zig-zag hair part is just the latest in a long line of Y2K-inspired looks from the star. And as hype and buzz about her forthcoming album grows, it's not a stretch to think it could be a sonic homage to another decade that seems to have captured her imagination — one she was around for, too.
Really, Lipa's an ideal how-to role model for '00s beauty trends. She incorporates tons of instantly-recognizable touches — sultry waterline eyeliner, colorful butterfly hair clips, and this new zig-zag part — but, by layering them with contrasting clothes and accessories, manages to bypass ever looking costume-y. In the case of Lipa's funky, party-ready hair part, she paired it with a very of-the-moment, TikTok-approved snake braid that's been plaited with extensions for hip-grazing length. Even the part itself gets a contemporary touch with its off-center placement.
Those who remember the late '90s and early '00s well probably recall actresses on-screen and on the red carpet wearing intentionally asymmetric or decorative hair parts, often flanked by glittery clips or barrettes — there was even an infamous late-night infomercial that promised all the tools necessary to create any zany part. These days, though, most know that nailing Lipa's look is as simple as acquiring a $2 rat-tail comb and slicing through the hair. Her braid is also wisely slicked down, which just makes the lightning bolt-shaped part stand out all the more.
Dua Lipa isn't the only young star dabbling with 2000s beauty trends, either. This month, the internet became polarized over the resurgence of side-bangs, as seen on stars like Rihanna, Gabrielle Union, and Kylie Jenner. Meanwhile, Bella Hadid, Ariana Grande, and Cami Mendes have both recently tried a zig-zag part out for themselves. If you want to add a little retro fun to any look, just make a jagged part — it truly suits everything.