If You're Dealing With Sun Damage & Wrinkles, Add CoQ10 To Your Skin Care Routine
The antioxidant boasts a handful of promising benefits.
Lindsay Hattrick/TZR; Shutterstock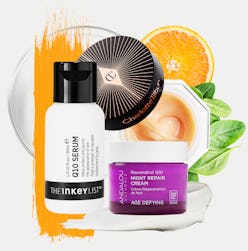 We may receive a portion of sales if you purchase a product through a link in this article.
With new products, brands, and categories popping up every day, beauty can be a bit overwhelming. Back to Basics is our rudimentary beauty series that serves as your crash course on the science behind some of the best formulations in the game. This week, we're taking a look at Coenzyme Q10 (CoQ10) for your skin.
The quest for firm skin is a popular one, and there are countless products on the market that promise to deliver this benefit. As a means to stand out among all of the noise, brands are constantly on the hunt for under-the-radar ingredients that have the potential to become new holy grails. One ingredient currently generating buzz is coenzyme Q10 (also known as CoQ10 or ubiquinone), an antioxidant that firms, evens tone, and protects against sun damage.
While CoQ10 is seemingly popping up in more and more skin care products as of late, the ingredient has been a staple in J-Beauty for years. It's rising popularity comes down to its versatility. The ingredient can seamlessly be added to any skin care routine, whether it's a moisturizer, toner, or serum, and it compliments other powerhouse ingredients like fellow antioxidants and retinol.
Ahead, TZR tapped two dermatologists to find out everything you need to know about CoQ10, including its benefits, side effects, and how to incorporate it into your own skin care routine.
What Is Coenzyme Q10 (CoQ10)?
Coenzyme Q10 is a compound that naturally occurs in the body and plays an important role in energy production, including adenosine triphosphate (ATP), a crucial energy source within cells — and another trending skin care ingredient. CoQ10 also serves an important role as an antioxidant and protects cells from oxidative damage caused by free radicals (which are produced by environmental stressors such as pollution, smoking, UV rays and can lead to cell damage, manifesting in physical symptoms of aging such as wrinkles).
How Does CoQ10 Benefit The Skin?
As we get older, CoQ10 levels in the body, specifically in the skin, naturally decline. The reduction in CoQ10 can also be caused by environmental factors like sun exposure. According to Dr. Rachel Nazarian, MD, FAAD, a board-certified dermatologist at the Schweiger Dermatology Group in New York City, says that coenzyme Q10 "behaves as a shield from environmental and other stressors that can damage and age skin [and] has been shown to aid in the repair of skin fibers." She adds that CoQ10 "helps with tissue repair [and] protecting youthful fibers like collagen and elastin."
Dr. Macrene Alexiades, MD, PhD, FAAD, a double board-certified dermatologist in New York City and founder of MACRENE Actives, notes that CoQ10 deficiencies can also result in neurological and muscular problems. Diseases like diabetes, fibromyalgia, cancer, and cardiovascular conditions have also been linked with low CoQ10 levels
Because of CoQ10's repairing and firming qualities, not to mention its compatibility with virtually any skin type (more on that later), brands are utilizing it more and more in their formulas. Like with many newer ingredients, there is limited data supporting the use of CoQ10 in skin care formulations. However, there are a few promising studies that point to a benefit. For example, in a controlled, randomized clinical study, CoQ10 was applied topically from a skin care formula for two weeks and was shown to reduce free radicals and increase antioxidant capacity. In another study, CoQ10 demonstrated a reduction in wrinkle depth and reduced oxidative damage caused by UV rays.
CoQ10 Topical Products Or Supplements: What's Better?
While CoQ10 seems like a promising new skin care ingredient, one thing to keep in mind is that the ingredient doesn't absorb as well as others. "Topical coenzyme Q10 has poor absorption and permeability through skin, making it difficult to direct to deeper skin targets," says Dr. Nazarian. Although, "some products combine it with other ingredients and technology to enhance stability and penetration," she adds. You'll often seen CoQ10 in formulas alongside other antioxidants like vitamin E, resveratrol, and actives like retinol.
You can also get the benefits of CoQ10 through oral supplements or via your diet (green vegetables, nuts, and meats are high in this antioxidant). In a 12-week clinical study, daily oral supplementation with coenzyme Q10 resulted in an improvement in wrinkles and skin smoothness. Given the length of the study, you won't see overnight results with coenzyme Q10, whether taken topically or as an oral supplement.
Who Should Use CoQ10 & What Are The Side Effects?
Because coenzyme Q10 occurs naturally in the body and is a component of healthy skin, "all skin can benefit from replenishing their stores of coenzyme Q10, especially as we age and levels decline," says Dr. Nazarian. There are no known conflicts between CoQ10 and other skin care ingredients.
Per Dr. Alexiades, coenzyme Q10 "interferes with other cardiac medication so it is very important to notify your physician if you're planning on taking the [oral supplement]." Just like you would with any other supplement or skin care product, it's best to consult with your general practitioner or dermatologist to ensure it's right for you.
How To Use CoQ10 In Your Skin Care Routine
Coenzyme Q10 can be used in the form of a moisturizer, serum, toner and/or body lotion. When used topically, "it's best used one to two times a day, preferably under sunscreen each morning, to preserve skin as it's exposed to the multitude of daily offenses," says Dr. Nazarian. She notes that these daily environmental exposures include visible light, pollution — and, yes, that includes the light from your cell phone.
Keep reading for a few CoQ10 product suggestions to help get you started on incorporating the ingredient into your skin care routine.
Shop CoQ10 Skin Care Products