Pink Hair & Ponytails Are Dominating PFW's Street Style Beauty Looks
Nothing less than très chic.
Edward Berthelot/Getty Images Entertainment/Getty Images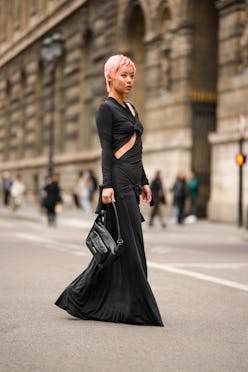 The arrival of Paris Fashion Week can be bittersweet as it also signifies the beginning of the end of fashion month. Nonetheless, the excitement for the shows, presentations, and street style is always a welcomed and happy way to close out the season. While the runways of Paris never disappoint — and always yield a range of inspiring beauty looks — it's the city's sidewalks that often provide the most alluring images. From hair to enticing makeup and nails, the Paris Fashion Week Fall/Winter 2023 street style beauty looks are full of creativity.
While New York Fashion Week is often known for its edge and Milan for its vivid designs and colors, Paris rounds the month out in an intimate way. It evokes romance, ease, and much like the city itself, so do the array of street style beauty looks. Throughout the week's events, guests and the fashion set turned the streets into a catwalk to show off their unique personal style.
Whether jaunting between shows or posing outside, attendees are finessing simple hairstyles like ponytails and bobs, and leaning into classic elements of Parisian style.
Below, find TZR's highlights of the best PFW F/W '23 street style beauty looks and latest trends straight from the city's streets.
Braided Ponytails
Braided ponytails have quickly become a go-to look for models and it-girls. This look worn by Evelyn Kazantzoglou features braids of various shapes and sizes, and couldn't be more show-stopping.
Pigtails feel grown up and edgy when done with an assortment of braids and a sharp zigzag part.
There's no denying the drama of a long braided ponytail. With its low placement, this side-swept style completes the sporty denim look.
Dramatic Hats
An asymmetrical beret with sharp angles becomes the perfect complement to a dramatic ruffled dress.
Delicate netting adds a dainty and feminine feel to this classic style cap — especially when worn atop wispy loose curls.
A wool skimmer hat makes a chic accessory for cascading loose waves.
Nothing says Dior quite like a dramatic hat a-la Audrey Hepburn. Especially when it's paired with a cat eye and muted lip.
Vibrant Pink Hair
Pastel pink hair proves to be the perfect color for the middle part styles that have been trending throughout fashion month.
A tousled pink updo paired with baby pink lips and neon pink eyeliner makes a bold statement on guest caught in-between shows.
A magenta layered hairstyle provides just the right amount of contrast and gives this ladylike dress an edgy feel.
A dark hair color makes a good base for bright pink hair as one guest exhibits here. From her dark roots to vibrant tips, the gradual change of color feels natural despite its intense shade.
Who says you need length to rock a colorful style? Short and sweet, this baby pink pixie steals the spotlight.
High Ponytails
The key to a good high ponytail is height and volume.
This slicked-back ponytail with a slightly wavy body adds demure yet sophistication to Lorena Rae's modern look.
Jourdan Dunn's sleek pony is the epitome of simple elegance.
Statement Making Lipstick
Deep berry lips with a touch of shine look slick and commanding with dark sunglasses and leather.
Lately, black lipstick has been linked to the growing goth-core trend, but when paired with sporty sunglasses the dark lipstick shade feels fresh and high street.
Chiara Ferragni's two-toned burgundy lip is a smoldering complement to her darkly rimmed eyes.
Completely matte, this earthy red-brown lipstick commands the focus of a guest's tonal tan look.
Mary Leest's dark, moody lipstick and slicked-back hair is positively bewitching.
Barrettes & Bows
Red bows are a nice contrast to Prada's metallic barrette. When worn together the final look is fun, playful, and edgy.
A large barrette fashioned after a safety pin stands out in an otherwise plain slicked-back bun hairstyle. The look was further styled with metal hair accessories dispersed throughout the bun.
Hair clips can be just as stylish as they are practical. Here, one guest uses them to create a headband-like effect at the crown of hair.
Brunette Bangs
Romantic tendrils are the perfect accompaniment to Mary Leest's tousled brown bangs and contrasting deep purple lips.
These blunt brunette bangs command attention and photographs from all angles.
Cat Eyes & Nude Lips
A classic combination, cat eyes and nude lips have a dramatic effect when matte textures are used.
Short and simple cat eyes are just as eye-catching when paired with a pinky-nude lip and naturally flushed cheeks.
Blunt Bobs
Shoulder-skimming bobs and blunt bangs get a playful twist when paired with a fluorescent pink hair color.
The blunt chin-length cut is the epitome of French Girl chic — as is Taylor LaShae.
This article was originally published on