Care For Your Cornrows With These Incredibly Easy Tips
Rosdiana Ciaravolo/Getty Images Entertainment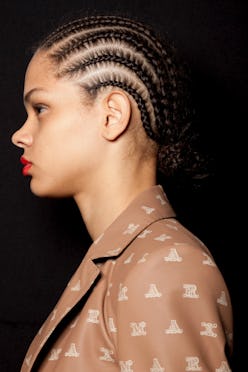 In the world of natural hair, cornrows serve two purposes: protection against daily stressors and a low-maintenance hairstyle. Whether braided to form a simple straight back look or into intricate patterns for wigs and weaves, they are ideal for any texture. However, like many protective styles, they do have drawbacks. "Tension is one of the most common issues that can lead to breakage around the perimeter of your hair," says Xia Charles, celebrity braider and CEO of Braided New York. But learning how to care for cornrows can be a game-changer for both hair health and the longevity of your style.
As the go-to base for extensions like sew-ins and crochet braids, how to properly maintain cornrows is often overlooked. While it's true that your curls are tightly tucked away in the style, they can be subjected to damage without the right care and attention. After all, there's nothing worse than a hand full of broken strands and split ends after that first wash and comb out.
Fortunately, there are ways to ensure that your hair stays in good shape while it's braided down. Ahead, TZR tapped two stylists for their tips on how to care for your hair in cornrows and minimize damage when you take them out.
Preparing Your Hair For Cornrows
The first rule of any protective style is to always begin with a clean head of hair. However, with cornrows, you should be using hydrating and moisturizing products during the washing process. Charles suggests looking for a shampoo and conditioner that are rich in ingredients like coconut water and hyaluronic acid. "The idea is to replenish and strengthen the strands as much as possible before you begin braiding," she says. After thoroughly cleaning, you'll need to blow dry your hair with as little heat as possible to minimize weakening the strands. For her clients, Charles prefers to use the RevAir reverse air dryer to dry and stretch the hair in one step. She notes this will also ensure you're not tugging on the hair and inflicting too much mechanical damage.
Caring For Your Cornrows
Despite the tension issues, cornrows are not bad for your hair. They just require some attention to detail. "Neglecting general maintenance is the biggest issue I see when it comes to wearing cornrows," says Cassandra Olivia, a Delaware-based hairstylist. Like other braided styles, they're low-maintenance, but that doesn't mean letting your standard hair care routine fall by the wayside. "Washing your hair and cleansing your scalp is crucial to removing dirt and oil which can build over time," she says.
According to Olivia, most clients need to clean and refresh their braids every one to two weeks. This is even more important when wearing a sew-in as it's secured, typically under a weave cap and the extensions. While your natural hair is hard to reach, there are several shampoos and cleansing products designed with nozzles that make the process a lot more manageable.
Hydrating your hair is another simple step that's often overlooked with cornrows for fear of buildup. But Olivia assures that moisturizing your strands with an oil like LEAF + FLOWER CBD Phyto-Molecular Oil is key to maintaining both the health and integrity of your hair. "Not adding oil regularly will cause dryness, which can lead to frizz," she says. How often you apply the oil may vary depending on the type of cornrows you have installed. As a good rule of thumb, Olivia recommends sticking to every one to three days.
Caring For Your Hair After Cornrows
With the right care, your cornrows can last up to six weeks. During that time, your hair will grow and the braids will likely loosen up a bit. Still, taking them out needs to be done with the utmost care. "Your hair will be fragile so you're going to have to be gentle with it for the next couple of weeks," says Oliver. She tells TZR the best thing you can do is resist the urge to rake through knots with your typical comb or brush after taking out the braids. "Instead, use your fingers or the pick of a wide-toothed comb to tenderly detangle your strands," she adds.
It's not uncommon for some breakage to occur, so don't freak out if you notice a little more hair than usual in your comb. For this reason, hydration should be the focus of your wash day routine. "This is the time to really cleanse and replenish the moisture in your tresses," says Charles. In that vein, both stylists agree that a two-step system, using a detoxifying pre-wash and clarifying shampoo, will work best. Once your hair and scalp feel squeaky clean, Olivia recommends applying a deep conditioning treatment or hair mask to boost hydration.
After conditioning and lightly drying your hair, Charles tells TZR it's a good idea to take a break from braids. "Opt for a style that lets your hair breathe," she says. Mini twists, for example, are a good alternative that's protective and easy to wear. Cornrows can take a toll on your roots and spacing out your braids can help keep them strong.