Isn't It About Time You Started Pre-Pooing Your Hair?
@patternbeautypro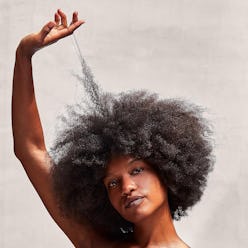 We may receive a portion of sales if you purchase a product through a link in this article.
Developing a good hair care routine takes time — from finding the right shampoo and conditioner to determining the exact number of extra steps needed, the whole process requires serious effort. But once you finally nail it all down and find your go-to products, it's impossibly satisfying. It can be hard to think about shaking things up with the addition of yet another step to your regimen but pre-shampoo is one that should not be skipped. Similar to the base coat applied to nails ahead of polish, it's a treatment administered before you begin washing your hair that can deliver more than a few benefits.
Think of pre-shampoo as a solid foundation for the rest of your routine that can mean the difference between healthy-looking hair and strands that are damaged and broken. As the precursor to your wash day, these products are designed to prepare you for the cleansing process and everything that follows. It may come as a shock, but between scrubbing, massaging, detangling, shampooing alone can take a toll on your hair. Then there's conditioning, which can also be taxing given the fact that many contain emollient-rich ingredients and oils that can weigh the hair down. But with the help of a pre-shampoo, you can ease the strain of the whole process and, most importantly, protect your precious crown.
Ahead, TZR taps two hair care experts to break down the basics of these must-have products. including their benefits and how to incorporate them into your current routine.
What Is Pre-Shampoo?
Just as the name suggests, a pre-shampoo is a treatment product that's meant to be added to your hair before you begin washing — it's the kickstart your full hair care lineup. Pre-shampoos, or pre-poos as they're most commonly called, can be broken down into two main categories: clarifying and hydrating. "You always want to begin with a clean base, before applying any cleansing agents," says Whitney White, hairstylist and co-founder of Melanin Haircare. She explains that the best way to do this is to start with clarifying products, such as scalp serums or rinses. "These types of pre-poo treatments help rid the skin of lint, dirt or old styling products that can build up and cause issues in the future," she says.
Hydrating pre-poos, on the other hand, are designed to deliver extra doses of moisture to parched strands. The difference between these items and traditional shampoos is that they are not actually meant to cleanse the hair. Instead, it's about prepping and properly setting your hair up beforehand.
The Benefits Of Pre-Shampoo
According to Anabel Kingsley, trichologist and brand president of Philip Kingsley, pre-shampoos work at the scalp and deep within the hair to ensure that both are protected during the cleansing process. These hydrating treatments enhance hair's water reserves to provide a line of defense in the face of potentially drying shampoos. This is especially helpful for those with naturally curly hair, as coils tend to dry out a lot faster than straight textures due to their structure. Pre-poos are also integral to reducing breakage by making hair more manageable and, in turn, easier to detangle once you're ready to move on to styling.
"Using a pre-shampoo treatment also allows you to deeply penetrate the strands and begin to help them from the inside out," says Kingsley. As she tells TZR, this will keep your cuticle smooth which has its own set of benefits like boosting shine and increasing strength and softness.
How To Incorporate Pre-shampoo Into Your Hair Care Routine
As the initial step, pre-poos should be applied before you even set foot into the shower. "To replenish the moisture balance and reinforce the strength of the hair, use the treatment on dry hair and allow it to sit a bit before rinsing," says White. This helps the product infuse deep into the cuticles and shaft of the hair in order to protect it once you begin washing. As for how often they need to be used, that depends on your hair type and its needs. For example, fine hair may not need the extra boost of hydration during every wash. However, textured or overly dry types will likely find the addition beneficial each time.
Your hair will always be the weakest and more susceptible to damage when it's wet. But with this step, you'll be giving it some much-needed TLC that will ensure it stays strong throughout your entire routine.
Shop The Best Pre-Shampoos
This article was originally published on