Curl-Specific Wash Day Products Are Everywhere, But Do You Really Need Them?
@ curly.strands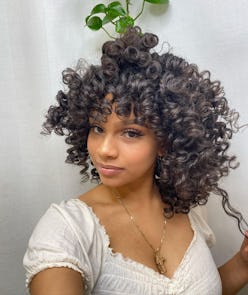 We may receive a portion of sales if you purchase a product through a link in this article.
Curls, whether tightly coiled or loose and free-flowing, need a little bit more attention on wash day. If your hair texture falls into either of these categories, then you've probably developed a routine packed full of hydrating cleansers and leave-in styling products. But as detailed as your post-washing system may be, you could be selling yourself short. Many believe that defining your texture is dependent on what you do to your hair post-shower, but the truth is it begins with the use of curl shampoos and conditioners. As the precursor to styling, these products can make or break how well your curls will take to creams and gels and how they will set.
Put simply, "when curls are not properly prepared, the finished result suffers," says celebrity stylist, Marilisa Sears. Compared to other hair types, curls have special needs, the first being robust amounts of moisture that need to be imparted during every step of your routine, she adds. This is where the aforementioned curl-specific shampoos and conditioners come into play.
Ahead, TZR tapped three hairstylists and certified trichologists to learn just how beneficial these products can be, and how they can affect the appearance of your curls in the long run.
What's The Difference Between Curly Shampoo & Other Shampoos?
Shampoo of any kind has one main purpose: to cleanse the hair and the skin on your scalp. But as Sears tells TZR, there are different nuanced ingredients that can make a particular product unique. She notes that hair type and texture are often considered when selecting a shampoo to ensure that you're giving your strands exactly what they need. "Curls tend to dry out faster than other hair types and need products with more moisturizing elements, including shampoo," she says. In a similar sentiment, Bridgette Hill, hairstylist and trichologist, states that curls often need to be gently cleansed with minimal disruption to keep the cuticle smoothed and flattened. "Many curl-specific shampoos are designed to work with the curl pattern as they impart moisture in order to keep it intact," she says.
How Do Curly Shampoos Affect Curl Patterns?
A curly shampoo can not give you curls if you don't already have them. And if you thought that it helps define your curl pattern, you may be surprised to learn that's a myth. Shampoos technically cannot assist with shaping or defining the curl pattern and are used simply for cleaning purposes. "For shampoos to provide curl-enhancing properties, that would mean that some type of polymer or agent remains in the hair," says Hill. But as as you know, shampoo rinses out residue, dirt, and oil, leaving nothing behind. It's best to think of the cleansing step as the prep work before getting into styling. "The benefits of curl-specific shampoo are dependent upon the ingredients in the cleansing formulation," notes Hill.
By looking for shampoos with humectant ingredients that draw water molecules into the hair instead of products that claim to define curls, you'll set a more beneficial course for the rest of the steps in your routine. Glycerin and aloe vera, for example, are two types of natural humectants that promote moisture retention within the curls and help set a foundation of humidity protection during the cleansing process. Additionally, Hill suggests using a sulfate-free shampoo as this will cleanse without removing any of the natural oils and keep the hair from drying out. Fatty acids such as omega-3 can also help seal water into the follicle.
What's The Difference Between Curly Conditioner & Other Conditioners?
By nature, conditioners tend to be more specific than shampoo and are frequently used to target certain hair concerns. That said, curl-specific options usually have a strong focus on adding moisture deep within the strands. "Textured hair requires more moisture, as the naturally produced sebum from the scalp can't reach the mid-shaft and the ends of the hair due to the zigs and zags of the hair pattern," says Kimberlee Blakley, hairstylist, trichologist, and senior director of product development for MAV beauty brands.
Detangling is another concern curly conditioners often target. Curls that are tightly coiled or entwined need to be adequately lubricated to receive the moisture benefits from the product. "Unlike regular conditioners, curl-specific options take into account the structure of the hair fiber to reinforce the gaps in the cuticle and keep the strands from becoming twisted," says Hill.
How Do Curly Conditioners Affect Curl Patterns?
Though conditioning is part of the washing process, it's actually the first step in styling, and choosing the right product can be crucial for curly textures. "As the foundation of your post-shampoo routine, a curl-specific conditioner helps make the hair more manageable and prepares it for styling products like creams and gels," says Blakley. Most of these types of conditioners include combinations of emollients, humectants, oils, esters, and other natural ingredients that deliver moisture and begin to set the curl pattern.
Much more than a moisturizing step, curl-enhancing conditioners are designed to work more like a performance product than a treatment. "For curls specifically, polymers found in the conditioner bind onto the cuticle of the hair fiber and temporarily provide a weightless coating that defines and elongates the curl," says Hill. This, as she notes, also helps mitigate any frizziness that may arise and impart shine.
Again it is important to note that curl-specific conditioners can not give you curls you've never had, but for those with coily textures, it can be beneficial for the final result. "The goal is to layer elements to ensure that curls are at their best, starting with a great conditioner that hydrates and evenly coats strands to enhance the natural shape," says Sears. That said, all of the experts recommend using products rich in essential vitamins, biotin, and naturally moisturizing ingredients like glycerin and plant-derived oils.
The Benefits Of Curl Shampoos & Conditioners
Since curly shampoos and conditioners don't actually make your hair curly, do you absolutely need to use them if you have naturally textured hair? The answer here is subjective. "There are a number of health benefits to having hair that is properly moisturized at the beginning of your wash routine," says Hill. For example, she tells TZR that well-nourished curls have more protein bonds in the hair that help lock onto the polymers in leave-in styling products. In that vein, Blakley notes to pay close attention to the ingredients in your shampoo to ensure it does not include any harsh surfactants that can strip the hair of essential moisture.