Glow Recipe's Latest Lip Launch Will Be The MVP Of Your Travel Beauty Bag
Go anywhere, do anything.
Glow Recipe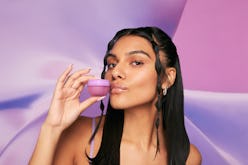 It was like some unwritten law of the universe until Glow Recipe went and upended it — before their latest launch, it felt like every lip balm that delivered more than just superficial moisture only came in boring-at-best, medical-looking packaging without a hint of tint, scent, or any extra cosmetic benefits. Since Glow Recipe's inception, the brand's gleaming reputation hinged on combining fruit-powered, highly effective formulas with fun colors, high-quality jars and bottles, and luxe application experiences. Now, with the release of Glow Recipe's Plum Plump Gloss Balm, they've taken on the final boss of utilitarian essentials: the everyday lip treatment, remixed.
As is the case with so many celebrated products, the new Gloss Balm's development unfolded rather organically. Glow Recipe co-founder and co-CEO Sarah Lee tells TZR exclusively that after gauging their audience's overwhelmingly positive feedback on the brand's Plum Plump Hyaluronic Cream, the team realized how applicable its star ingredients could be for the lips. "...hydrating plum extracts work synergistically to hydrate skin with hyaluronic acid," Lee explains, so "we knew that a lip treatment with the same ingredient story would be an amazing addition to not only treat parched lips, but to provide a top coat, gloss-like finish as well."
And really, that's the beauty of the Gloss Balm summed up — while you reap the product's moisturizing benefits for softer, fuller-looking lips, it's not a thick, overnight masque you're reticent to wear in public. As far as everyone else is concerned, that shiny, vibrant finish is just a long-lasting lip gloss. The central ingredient at play is, of course, plum extract, but it's flanked by hyaluronic acid and antioxidant-rich raspberry extracts that help with water retention and environment protection. Because nearly all of Glow Recipe's products are free of animal-sourced ingredients, subbing out certain lip balm formula staples was top-of-mind through the development process. "We also worked to find a plant derived alternative to lanolin to act as the emollient and keep the formulation vegan while providing a non-greasy glossy shine to lips," explains Christine Chang, co-founder and co-CEO.
The tiny glass jar makes the balm totally TSA-friendly, easily tucked away in bag pockets or suitcase corners. It is one product you'll want with you this summer, as much for its versatility as anything. While Chang says she loves to use the balm as step-one preparation ahead of lipsticks for ultra-smooth application, Lee likes to layer it over top her favorite lip colors, especially nude lip liner. "It's the perfect glossy, nude lip combo for all year!"
The Glow Recipe Plum Plump Lip Balm is available May 26 on Sephora.com.