PSA: There's A Sneaky Little Ingredient In Lip Balm That Makes Your Lips Worse
It's time to break the cycle of dryness.
@rrayyme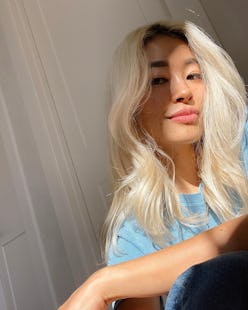 We may receive a portion of sales if you purchase a product through a link in this article.
In theory, lip balms were created to keep the lips feeling soft and hydrated all day long – especially in the winter when blistering temperatures aggressively suck out the moisture of the skin. And you're not imagining it: the lips are more prone to dryness than the rest of your body. Dr. Kristina Collins, double board-certified dermatologist and founder of Foy, says that lips get dry quickly because they don't have a cover of sebum that protects them from the environmental elements. So why do some lip balms, the very thing created to help dryness, seem to make your lips even more chapped and irritated? And how do you break this painful cycle?
Ahead, TZR turned to three board-certified dermatologists to discover what why certain lip balms make your lips even drier, what lip balm ingredients to avoid, what ingredients should be used, and how often to hydrate your lips.
What Causes Dry, Chapped Lips?
According to Dr. Dennis Gross, board-certified dermatologist, dermatological surgeon, and founder of Dr. Dennis Gross skin care, "the skin on your lips is thinner and more sensitive than the skin on the rest of your body." Due to the low capacity to retain water and the lack of oil glands, the lip skin has a weak barrier. So when you add in environmental elements like wind and dry air, you'll notice cracking and dryness more easily.
When your lips are dry, the natural reaction might be to lick them, but Dr. Gross strongly advises against this because every time you lick your lips, saliva is transferred. "As your saliva evaporates, it pulls from the remaining moisture that's deep within your skin, and causes your lips to become drier," the dermatologist shares. "Saliva also has digestive enzymes that can break down the lips' fragile barrier and cause cracking and peeling, and it quickly evaporates, leaving lips even drier, starting the menace cycle all over again."
Thankfully, lip balms can soothe irritated, chapped lips, but some chemicals, fragrances, and preservatives used to formulate lip balms can dry and irritate your lips even further.
Lip Balm Ingredients Matter
Ahead, the dermatologists share which ingredients can exacerbate lip dryness and which ingredients will effectively soothe chapped lips and restore moisture.
Avoid Exfoliators
Some lip balms contain exfoliators like menthol, salicylic acid, and phenol to help slough dry flaky skin. However, according to Dr. Collins, lip skin is sensitive and aggressive exfoliators that might temporarily cool and soothe irritation can actually strip the outer layers of the skin, making it susceptible to dehydration, redness, and burning. "Salicylic acid is commonly added to lip treatments to help exfoliate dry, chapped skin but it can be too irritating for this sensitive area and actually get you into a never-ending cycle of sloughing and dryness," the dermatologist further explains.
Be Weary Of Lip Balms With Fragrance
Lip balms that contain scents or added flavoring might be fun for the sensorial experience, but Dr. Shereene Idriss, board-certified dermatologist, founder of Idriss Dermatology in NYC, and creator of the #PillowtalkDerm Instagram series, says the chemicals could irritate the skin, causing an allergic reaction or irritation, leaving lips feeling more chapped.
Scents, flavors, and coloring can cause tingling to the lips, which Dr. Gross flags as irritation. "If you experience any sort of discomfort, burning, stinging, or tingling when you apply a lip product, that is a sign that your lip product is irritating your lips, and you should stop using it immediately," the dermatologist says. "People commonly mistake burning or tingling as a sign that their product is working, but it's actually just irritating your chapped skin, and prolonging the healing process."
Look Out For Allergens
Dr. Collins suggests running the other way when spotting any potential allergens in a formula, such as lanolin, parabens, phenol, or salicylic acid, because they can irritate sensitive skin. "Lanolin [a wax extracted from sheep's wool] is a common additive, and it's a major culprit for allergic contact dermatitis and irritant dermatitis," the dermatologist tells TZR.
Choose A Lip Balm With Humectants & Occlusives
Lip balms with hyaluronic acid, glycerin, and other humectants (ingredients that reduce the loss of moisture) are great options. However, for a lip balm to truly hydrate, you'll need humectants and occlusives (ingredients that prevent water loss via a physical barrier) like beeswax (shield lips of dry air, wind, and cold), petrolatum (reduces trans-epidermal water loss), coconut oil, shea butter, mineral oil, and squalene to further seal in the moisture and protect the barrier. "The humectant holds onto water, and the occlusive keeps it from evaporating," says Dr. Gross. "If the formula doesn't contain occlusives to help lock in the moisture, it will evaporate." Once the moisture evaporates, the lips will feel drier and appear dehydrated."
Don't Forget About Sunscreen
With that, lip balms that focus on sun protection, are also paramount. "Your lip skin has very little melanin, which is the pigment that protects against UV damage," Dr. Gross shares. "This makes your lips more susceptible to burning and increases your chances of developing skin cancer." Just like the skin on your body, the ideal lip balm has SPF 30 or higher, and applied a couple times throughout the day.
How Often Should You Apply Lip Balm?
Similar to sunscreen, lip balms only work as well as how often you apply them, so don't be afraid to coat your lips multiple times a day. "If your lips are dry it is safe to reapply your lip balm as frequently as needed to keep your lips comfortable and moisturized," Dr. Gross tells TZR. However, if you have a severe case of chapped lips and find yourself constantly reapplying lip balm without seeing an improvement, the expert recommends supplementing the balm with a thicker mask or ointment in the morning and at night, such as Vaseline or Aquaphor. "Ointments are able to lock in moisture longer than waxes or oils," Dr. Gross adds.
Additionally, you can try the lip blasting technique, a hack created by Dr. Idriss for long-lasting moisture and hydration. Similar to slugging, the first step is to buff the lips with a gentle chemical exfoliant (read: lip scrub). Then, apply a thick layer of a rich emollient or occlusive for a few hours or overnight to baste your lips. The end result: soft, hydrated lips.
The Bottom Line: Lip Balms Do Help
It's true that depending on the formula, some lip balms can leave your lips feeling even more dry and chapped. However, as long as the lip balm you're using includes a combination of humectants and occlusives to pull in water, protect the skin barrier, and trap in moisture, it will be a great tool for providing deep nourishment and retaining moisture. Of course, if you've followed all of these expert tips for properly choosing and using a lip balm and your situation is not getting better, it might be a good idea to visit your dermatologist. As medical professionals, they will be able to provide advice on what products to use or do a deep dive into the root cause (allergies or underlying medical conditions) of chronic lip dryness.
Shop Hydrating Lip Balms