Ole Henriksen's New Peptide Lip Treatment Gets Rid Of Severe Dryness
It's a moisturizing miracle.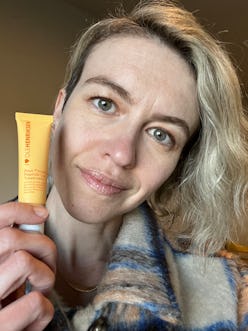 We may receive a portion of sales if you purchase a product through a link in this article.
In our series Trial Run, TZR editors and writers put the buzziest new beauty products to the test and share their honest reviews. This week, beauty writer Megan McIntyre is testing the Ole Henriksen Pout Preserve Peptide Lip Treatment.
There were many things I was expecting when I moved from Brooklyn to Colorado: Breathtaking mountain vistas, logging a lot more hours on my skis, and no longer having easy access to decent bagels, to name a few. One thing I wasn't anticipating? Having the dry, mile-high air suck every last ounce of moisture from my poor, unsuspecting lips. In the three years since living in Denver, my mouth has transformed into a parched and chapped wasteland that no chapstick, balm, oil, salve, or fancy cream has been able to quench — until I started using Ole Henriksen's Pout Preserve Peptide Lip Treatment.
This treatment has done what so far every other lip moisturizer in my arsenal has failed to achieve by smoothing, hydrating, and softening my cracked and flaking skin. Ahead, learn how this citrus-scented peptide potion has resuscitated my parched lips.
Fast Facts
Price: $22
Size: 0.4 oz.
Clean/Cruelty-Free: Yes
Best For: Those with chapped, flaking lips or anyone concerned with fine lines around the mouth
Ingredient Highlights: Lip-specific peptides, kokum butter, mango seed butter, cloudberry oil, acai sterols
What We Like: Instantly smooths and hydrates, provides long-lasting moisturization, subtle plumping effect without the tingle, delicious citrus scent
What We Don't Like: Pricey
Rating: 5/5
How TZR Keeps Score: 1/5: Making a return; 2/5: Keeping as a backup; 3/5: Finishing to the last drop; 4/5: Recommending to my group texts; 5/5: Already on auto-replenish
The Formula
The star ingredients in Pout Preserve are peptides, which Rachel Nazarian, M.D., F.A.A.D., a board-certified dermatologist in New York City, describes as short chains of amino acids, the building blocks of proteins. "These molecules are used to stimulate the production of vital substances that we need for skin health, such as collagen and elastin, and oftentimes can also improve the structure and function of skin with regards to moisture retention," she explains. "The more collagen and elastin our skin has, the more youthful it will appear, and the stronger the skin barrier, the less water it loses to the environment."
The specific peptides used in this formula — Palmitoyl Hexapeptide-12 and Palmitoyl Tripeptide-1 — are interesting, says Dr. Nazarian, because they combine a fatty acid known as palmitic acid with the peptides. "The combination has shown to improve hydration by strengthening the skin barrier — something that's really important if you live in an arid environment," she says. The brand also claims the peptides have a visible plumping and firming effect.
In addition to this fatty acid and peptide combo, Pout Preserve also carries on the brand's tradition of incorporating traditional Scandinavian ingredients with an extract of cloudberry seed oil. Commonly found in alpine and arctic climates, this nordic berry is rich in antioxidants to nourish and protect lips. It's combined with wild mango seed butter and kokum (a plant in the mangosteen family) for moisturization and to improve the appearance of fine lines. The final inclusion to the formula is another antioxidant heavy hitter, acai sterols, which hydrate and condition lips.
My Typical Lip Care Routine
Despite having easy access to the best lip balms and salves the beauty biz has to offer, I'll be the first to admit that my moisturizing game is not strong. I'm not the type of person to carry around an emotional support chapstick in my purse or frequently reapply a lip hydrator unless I can actually feel the flakes forming. Usually I'll apply a balm prior to swiping on my favorite lip color to ensure the shade glides on smoothly and then maybe right before bed if I'm feeling dry.
All that changed about three months after moving to Colorado. Every single lip product in my beauty editor arsenal soon got to test their merit against my progressively more cracked mouth. I even dug into my stash of fancy French pharmacy buys and my Korean overnight lip masks. Each provided temporary relief only to seemingly evaporate minutes later and leave me chalky and flaking, desperate for relief. I stared forlornly at my collection of glittery Pat McGrath BlitzTrance lipsticks as they gathered dust, unable to wear anything more than a tinted balm on my dried-up lips. If it weren't for Róen's Elixir Tinted Lip Oil Balms and Tower28's ShineOn Jelly Lip Glosses, my lips would have been tragically bare these past few years.
My Experience & Results
I had zero expectations when Pout Preserve arrived — the description sounded promising, but they always do because marketers are very good at their jobs. Ole Henriksen has always been a favorite of mine for all things skin care (if you haven't tried the PHAT Glow Facial, do your face a favor and get on that immediately), so I knew the formula was going to be quality, however I had no reason to believe that this would succeed where so many others had failed.
The scent was reminiscent of a creamsicle with its bright citrus and a hint of vanilla that lingers long after you first apply it. It's sweet without being cloying or that sickly artificial aroma that can cause a headache in those of us who are sensitive to sugary smells. The texture is like a thick serum that slips across the skin without feeling goopy — you feel it's there but it's more silky than sticky. Best of all, it doesn't leave the dreaded white ring of build-up around the inside of your lips, which can be a common problem of mine with some of the waxier lip balms.
Immediately after I applied Pout Preserve I could feel the flakes softening and my lips becoming more supple. Unlike the balms and masks I'd been using in the past, which felt like a slippery layer over top of chapped skin, this actually felt like it was absorbing into the skin and working to hydrate it from the inside out. According to Dr. Nazarian, peptides are easier for the body and the skin to absorb because they are smaller molecules, however, she doesn't think it's the peptides that are the cause of my lips' moisture makeover. "It's less the peptide and more the fatty acid of palmitic acid, which is useful for the addition of hydration in this product," she says. "Traditional lip balms either add hydration or prevent evaporation of hydration — this does a little bit of both."
Is Pout Preserve Worth It?
I've been using Pout Preserve Peptide Lip Treatment for the past two weeks and for the instant gratification alone I would say that this is a must buy for anyone who struggles with moisture-challenged lips. But it's the cumulative benefits that have really impressed me — the more I use Pout Preserve, the softer and smoother my lips look and feel. While I'm still experiencing some flakes and chapped areas, my lips are nowhere near as dry as they were before I started using it. I can only imagine how lush the lips of those of you not dealing with 5,280 feet of elevation and non-existent humidity would look.