These Fall Fragrances Are The Perfect Cold-Weather Signature Scents
The scent of autumn is already in the air.
Gilbert Carrasquillo/GC Images/Getty Images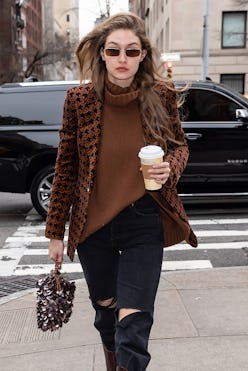 Even if you're well past back-to-school age, something about that first post-Labor Day week feels transformative and almost like an entirely new year altogether. Slowly but surely, cutoffs are replaced with their full-leg counterparts, thicker moisturizers come out of medicine cabinets as the air starts to turn chilly, and fragrance fans everywhere trade in their light, beachy scents for something decidedly bolder. Fall fragrances are typically marked by heaviness, a richer, warmer, and often muskier scent that clings to sweaters and leather jackets and tousled hair for an impression sure to last all season and beyond.
Even if you've already secured your perennial signature scent (and here's how to find it if you're still on the hunt), temporarily swapping that scent out for something autumn-specific is an incredibly easy way to shake up your look and aesthetic while ensuring the upcoming fall is truly unforgettable. Scent is the sense tied most closely with memory, meaning smelling your 2021 fall fragrance even several months from now is all but guaranteed to trigger an autumnal highlight reel. Of course, finding that perfect fall fragrance is the real challenge and to that end, scroll through this list of curated fall scents complete with descriptions and suggestions — all that's left to do is give them a real-life whiff.
We only include products that have been independently selected by TZR's editorial team. However, we may receive a portion of sales if you purchase a product through a link in this article.
As the leaves start to shift from green to gold, transitioning your own fragrances — though a relatively tiny change in a daily routine — can be enough of a move to make you feel like you're turning over a new leaf of your own.