Megan Fox Put A Summery Twist On A Classically Moody Hair Color
Lester Cohen/Getty Images Entertainment/Getty Images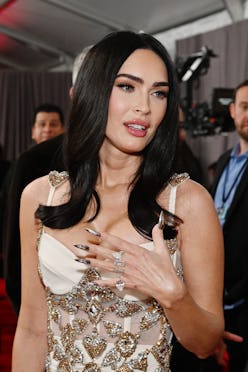 It takes an especially daring individual to pull a bold beauty reveal at a major event or award show. With the outsized attention (and camera lenses) focused on something as big as the Oscars, too many choose to play it safe — but that's never been Megan Fox's aesthetic prerogative. Rather than stick with her signature glossy, raven hair for the Vanity Fair Oscars after-party, she debuted an unexpected new color with an even more surprising source. Megan Fox's new red hair was directly inspired by The Little Mermaid, her hairstylist shared. With Disney's new live-action adaptation on the horizon, it makes sense that this rich, summery red would become a top-trending color for the season.
According to celebrity hairstylist Dimitris Giannetos, the goal was to create a look that suited Fox's sultry after-party outfit. "She's wearing a beautiful black gown so we wanted the hair to look very effortless and modern," he explained in a press release. Not only was Fox's color transformed into a warm, fiery copper, but the length and shape are similarly bombshell-y, with plenty of bone cheekbone-skimming layers and impressive volume. Truly, though, the most impressive component of the look is just how perfectly this shade of red suits Fox — in a Mount Rushmore of Redheads, Fox's excellent new color would put her somewhere in between Amy Adams and Ice Spice.
While Giannetos handled the blowout, celebrity stylist Jacob Schwartz of Meche Salon in Beverly Hills developed that captivating copper color. "For Megan's color, we looked through different variations of red," he said in a press release. "Her eyes are so blue so I knew adding more copper would be the move. I wanted her change to be a full-on moment, but also wanted to approach it with a natural touch so I kept it a deeper copper tone." Using Redken's new Color Gels Oils, he teased out the ultimate red complementary to her skin tone.
To nail that fluffy blowout, Giannetos worked with products selected for shape and all-night hold. "I started by using UNITE's ELEVATE Mousse in towel-dry hair in order to give some body and lift the roots of the hair," he detailed. "Once dry, I used some TEXTURIZA Spray to maintain the volume and fullness." To lock it all into place, he misted the whole style with hairspray.
This is far from the first time Fox has gone red, though. Just this past October, Giannetos once again gave her a temporary transformation, though that red was more vibrant and violet-toned to suit the moody, spooky season. Fox's Oscars after-party red is much warmer and sun-streaked, the October color's warm-weather counterpart.
Knowing Fox, this new color and style probably didn't even survive the night. If the red is any indication, though, she'll be serving up spring and summer hair color inspo for quite a while.