Meghan Markle's Fresh Hair Color Signals The Dawn Of A New Era
WPA Pool/Getty Images Entertainment/Getty Images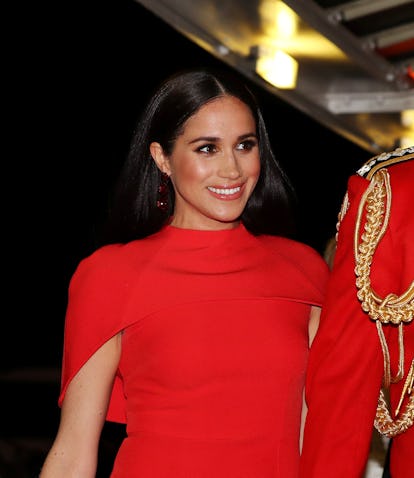 It's the sort of celebrity news that makes you race to the group chat, psyched to be the one who gets to deliver that first conversation-igniting screenshot along with the bombshell revelation: Meghan Markle, a redhead. Actually, there's more to the royal's glamorous new look than just a very trendy hair color, but it's certainly the biggest takeaway. Meghan Markle's dark red hair debuted quietly, noticed by only the most astute fans and followers. The actor-humanitarian appeared in her friend Misan Harriman's TED Talk address as part of an introductory video preceding the lecture, poised and regal as ever. Draped in a high-necked, shell-pink sleeveless top, Markle's hair color and dimensional, of-the-moment haircut stood out all the more.
Her first public sighting in nearly two months, the always-polished Markle was visibly luminous even through the jumbo-sized TED Talk screen. Her long, cinnamon-toned hair was not only stick-straight and particularly shiny, but appears to have fresh, razor-cut layers for a seamless, cascading effect that adds so much definition around her facial contours. A major departure from her usual raven curls and bouncy blowouts, it signals the dawn of a whole new era for Markle and her ever-growing empire of charity initiatives, film and television, and consulting work.
Part of what makes that "chocolate cherry" red so vibrant on Markle is that it's actually not that far off from her usual shade. In most lighting situations, Markle's hair appears to be the deep, mahogany brunette she's stuck to for years. But when she steps into direct sunlight outside, the subtle red undertones are illuminated and much more vibrant.
These photos were taken on the same day in The Netherlands, but show the tonal range of Markle's brunette hair.
Karwai Tang/WireImage/Getty Images
Max Mumby/Indigo/Getty Images Entertainment/Getty Images
While fans are clamoring for a clearer glimpse at Markle's exciting hair transformation, higher-quality photos have yet to emerge. In the meantime, occupy yourself with dreams of all the red carpet outfits she could pair that beautiful new hair color with.