Dani Kimiko Vincent On How Her Ancestry Inspired Her Namesake Brow Brand
The products are rooted in culture and traditions.
Courtesy of Danielle Kimiko Vincent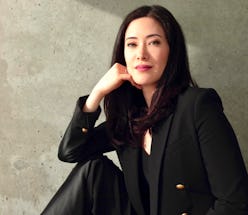 We may receive a portion of sales if you purchase a product through a link in this article.
It's not hard to see the influence culture has within the beauty industry. From region-specific ingredients, such as tsubaki oil which hails only from the Japanese camellia plant to Ayurvedic rituals like hair oiling, brand founders are honoring their roots through the products they create. But for Dani Kimiko Vincent, makeup artist, brow expert, and creator of Kimiko, a makeup line specializing in brow products, unlocking the stories of her heritage was much more than inspiration for her namesake brand. "There's something so beautiful about Japanese culture and the rich history of purpose tied to everything they do," she tells TZR.
However, before diving deep into her brand's origin story involving samurais and ancient swords (yes, swords) there are a few things about Vincent you need to know. First and foremost is her desire to create the perfect set of eyebrows. "I've always had a brow obsession for two reasons," she says. "The first one being just how critical of the role they play in shaping the face, and the second stems from the torture I put my own set through as a teenager."
So, Vincent knew that brows would become the focus of her artistry. Over the years of working with celebrity clients such as Sandra Oh, and noteworthy beauty brands like Tenoverten, she developed the "legacy brow." Meant to be the ultimate enhancement of all facial features, Vincent's signature style has everything to do with symmetry and nothing to do with trends. "The idea is to create a timeless look that is full, natural, effortless, and most importantly in line with your personal style," she says.
Ahead, Vincent shares how her brand Kimiko came to be, along with her expert tips on crafting your own set of legacy brows.
Crafting A Legacy & Tools Of The Trade
While building her career working with celebrities and established brands, Vincent always planned on creating something uniquely her own. "Being an artist gave me the opportunity to play with a lot of different makeup, so naturally, when I came across a product that just didn't cut it I wanted to develop something that worked better."
So she set out to make her own brow tools, starting with the perfect pencil, the Eyebrow Pencil Automatique, for achieving the legacy brow. "Growing up, it was the one product I could never leave home without, and when I set out to create my own I knew the formula needed to be able to withstand heat, humidity, and deliver a look that was natural." In short, the pencil needed to perform with precision while yielding excellent results, and that is where her journey into her rich family's heritage began.
Knowing the noble history her family holds, Vincent decided to look into the ancient sword which had been treasured and passed down from her grandfather's side since the early 1700s. Her pursuit would lead her to Japan, where she would begin to unearth the traditions that would come to inspire every aspect of Kimiko. "In that journey, to find the site of my family's last samurai, I learned a lot about the lost art of sword making and how honor, dedication, and attention to detail are necessary to craft the perfect tool," she shares. "Unquestionably, I knew I wanted to bring those same principles to my brow products."
Arriving in Japan, with a few photos, she was led to a temple in a small town just south of Kobe. She didn't have names or many other specifics, but upon finding the temple, she was able to take a meeting with a priest and ultimately discover the plots and stories of her ancestors.
"As I showed the priest a photo of my grandfather, I was shocked to learn how close a relationship he had to the head samurai," she says. But beyond the fascinating tale, uncovering the origins of the sword further emphasized the importance of craftsmanship and honor that Kimiko had to deliver. Armed with the ancestral narrative and her scientific background — having studied pre-pharmacy in college — Vincent aimed to create best-in-class products.
"Each product has been a three-year process and no detail, from the stiffness of the brush to packaging, has been spared," she says, even down to the brand's signature aubergine purple and gold colors which were pulled from her grandmother's kimono.
The second hero product, the Brow Sensei gel was also born out of necessity for both her clients and her own brow needs. "Styling is a big part of finishing the service and I wanted a gel that kept the hair looking fluffy and realistic, as all too often they can give a crispy look that tends to flake," she says. But finish aside, she also aimed to create a formula that was ingredient-focused to promote healthy hair growth. With 14 amino acids, peptides, and castor oil, The Brow Sensei's nourishing formula is made to strengthen while it holds your brows in place.
Achieving Your Own Legacy Brow
Even if you're blessed with brows like Brooke Shields, Vincent notes that everyone could benefit from a touch of styling, starting with Kimiko's Eyebrow Pencil Automatique. Much like The Brow Sensei, the formula of this pencil is low in oil in order to allow the user to draw single strokes that really mimic natural brow hair.
Arguably the hardest discernment of doing your own brows is knowing where to begin, but with Vincents' simple technique and stellar products, mastering your brows is a breeze.‌
"To maximize your look, you'll want to start in the upper arch as it's where you'll be able to add lift and definition to your brows," she says. Coincidentally, it's also where the light tends to hit in photos, which can diffuse the overall look. Continuing outward, she suggests slowly drawing tiny strokes working your way toward the tail that lifts at the very end of the brow. "By doing this you'll keep your brows and eye area looking raised," Vincent explains.
As you begin to move toward the front of your brows, you may notice the direction of hair differs, but Vincent assures you that it's perfectly normal. "Quite often, the hair growth tends to be more vertical at the front, so you may need to adjust your strokes to match before using the spoolie to blend everything in," she says. But her final tip just may be the most important all. "Brows are finicky so I always recommend starting with the one that is your favorite and doing your best to emulate that look on the other side," she says.
Much like traditions are the key to sustaining culture, Vincent believes that timeless styles and techniques are vital for creating a look you love. "My goal has always been to help people create their best brow themselves because they have the right tools."
Kimiko's Products For Legacy Brows