Selena Gomez Got A 'Brow Flip' & Immediately Started Feeling Like A Supermodel
@selenagomez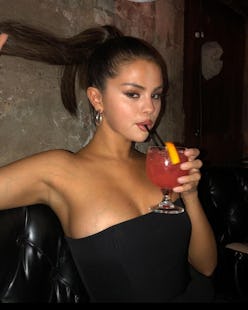 Not even celebrities can ignore the siren song of a white-hot beauty trend. Brow lamination — also routinely referred to as brow flips — has been beloved by insiders for a while, but didn't really reach maximum impact 'til mid 2020. The technique is the easiest way to get those fluffy, brushed-up brows so regularly seen all over social media, and now it can count the most followed person on Instagram as a fan. Selena Gomez's brow lamination debuted just days ago on TikTok, but it's already inspiring more than a few of her followers to check out the semi-permanent technique for themselves.
Over on the video-sharing app, Gomez posted a quick selfie snippet showing off her brows with all the trademark signs of a lamination: upward-brushed hairs, tons of definition, and that slicked look are all dead giveaways. As is often the case with brow lamination, Gomez seemed to get an immediate self-confidence bump, again turning to TikTok to share a video of her lip-synching the app's popular "My name...is Bella Hadid," audio. Despite her good-looking brows, Gomez might have mixed feelings about them for now. In the follow-up to her Bella Hadid shoutout, she said, "Instead, this is me. I laminated my brows too much."
Gomez's reaction is pretty normal, though. Not unlike most semi-permanent treatments and procedures, eyebrow lamination can look a little extreme in those first 48 hours, with brow hairs settling back in to a more natural state with time. When the trend was first taking off, Connie Ko, cosmetic and medical tattoo artist and founder of Jelly Lab in Los Angeles, told TZR that brow lamination essentially just realigns the direction hair grows and, along the way, enhances brow shape. "It is a semi-permanent brow perm great for stubborn, down growing, curly brows to achieve the popular editorial brow look," she said. "Brow lifts make it easier to style your brows to your preference."
The Only Murders In The Building star seems to be enjoying something of a social media renaissance in general. She's been especially active on Instagram and TikTok, sharing previously-deleted photos, her early-morning routines, and — of course — her always-sly sense of humor. Who knows what buzzy beauty trend she'll demonstrate for her followers next?