The Easy Eyebrow Routine I Follow For Natural-Looking Arches
Kelsey Stewart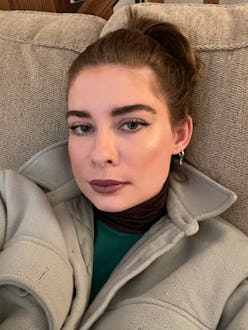 We may receive a portion of sales if you purchase a product through a link in this article.
Like many of you reading this, I fell victim to the pencil-thin brow look of the early aughts. That's right, you would have had to pry the tweezers out of my cold, dead hands back in the day. Once I finally decided to put the tool down after years of over-plucking, it took awhile for my brows to return to their full, bushy state (I was born with arches like Princess Diaries' Mia Thermopolis before her extreme royal makeover). Clearly, my arch journey has been a bit bumpy — but luckily, I've nailed down an easy brow routine. Spoiler: It usually takes me under five minutes to achieve my desired look.
Products aside, I wish I could say I was consistent with grooming my brows, but hey, life gets in the way. When I do seek out professional help (which is usually once or twice a year), I always turn to Azi Sacks, a New York City-based brow wiz who works with a slew of beauty editors. She's a wealth of knowledge in the brow department, and has taught me so much about caring for my arches. For starters, Sacks recommends applying castor oil nightly, as it helps keep the hairs hydrated, allowing them to grow quicker. She's also told me what not to use. According to the expert, if you're attempting to grow out your brows, powder is much better than pencils, as the latter could potentially pull out your hair with continued use.
What else have I learned from Sacks? Keep reading for my full eyebrow routine that I've built around all of the game-changing advice she's given me.