This Simple Mascara Swap Is The Secret To Smudge-Proof, Extension-Level Lashes
Oily lids, this one's for you.
@aliandreeamakeup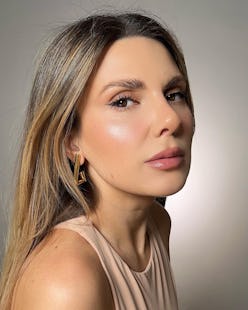 We may receive a portion of sales if you purchase a product through a link in this article.
Mascara is one of those hero makeup items beloved for its ability to quickly uplift your look in a matter of seconds. With a swift swipe, it can easily take your lashes from lackluster to defined and elongated. But while that transformation has made mascara a staple among both minimalist and maximalist makeup enthusiasts, there is one vexing issue that often comes along with it: smudging. In fact, there's nothing worse than glimpsing into the mirror only to find that your lashes have become a mess of streaks and black flecks of product under your eyes. Luckily there's tubing mascara — a unique formula that coats lashes instead of pigmenting them —to break this cycle while still providing incredible results.
Whether you follow a number of beauty content creators or simply like to peruse your favorite beauty retailer's website to scope out new products there, you've likely heard the chatter surrounding this type of mascara as of late. As a product that has gone viral on just about every social media platform, tubing mascara has made waves for its formula and dramatic lengthening effects. "What sets these mascaras apart from traditional options is the special blend of waxes and oils that form tube-like structures around your individual lashes," says celebrity makeup artist Fiona Stiles. "And as someone who generally doesn't reach for a mirror mid-day they provide a nice safety net knowing I won't have a smudged black ring under my eyes at the end of the day," she adds.
Ahead, TZR tapped two industry experts for everything to know about the trending mascaras, including the benefits, how to apply them, and even which to shop right now.
What Is Tubing Mascara?
Just as the name implies, tubing mascara creates tube-like structures around each individual lash to increase their length and volume. According to Karissa Bodnar, founder and CEO of Bigger than Beauty Skincare and Thrive Causemetics, the tubes are made from a blend of polymers and film-forming waxes that uniquely enhance the lashes without weighing them down. "Tubing mascaras can instantly create the lengthening look of lash extensions without the hassle of glue," she says.
What Are The Benefits Of Tubing Mascara?
The wear time of tubing mascaras is even better than the length they add to lashes. Created to encase the lash, the tubes are built to last all day without smudging and can easily be removed with little to no irritation. "One of the reasons I'm such a huge fan of tubing mascara is because of how easy it is to take off," says Stiles.
Sounds too good to be true right? While other formulas aim to keep the product adhered to lashes for long periods of time, the waxes utilized in these mascaras are meant to surround the lash. Which means that they can simply slide off during the makeup removal process. "There's no need to scrub or even rub hard to take the mascara off," Stiles shares. Instead, she suggests using a few splashes of warm water and gently wiping the tubes free.
Aside from a quick and painless removal, these mascaras also deliver a flake-free look thanks to the lightweight tubes. "Each of the tubes provides a waxy, water-resistant coating around the lash which keeps the mascara from smudging throughout the day," says Bodnar. She continues, telling TZR that unlike traditional formulas, these coatings are gentle on lashes, making them ideal for those with sensitive eyes.
How Do You Apply A Tubing Mascara?
With such a unique formulation, you'd think the application would differ from that of a traditional mascara, but it's actually very much the same. You'll begin by placing your wand at the base and sweeping the product through your lashes from root to tip. However there are a few things you can do to maximize your overall look. A tubing mascara will elongate your lashes in one coat, but for extreme length, you can carefully brush an additional coat at the tips of the tubes. With this technique, you can easily give your lashes a fan-like look that rivals extensions.
If you're happy with the length provided but are looking to create a fuller appearance, Bodnar recommends applying a few more coats while your lashes are still wet to intensify the look. "After the initial coat, run the wand through the lashes from the base outward to create a thicker tubular layer around the lashes that seals the look for all day wear," she says.
Shop The Best Tubing Mascaras