Lip Liners Are Back Big Time – Here Are 10 To Keep On Deck
Makeup's best-kept secret.
@makeupbymario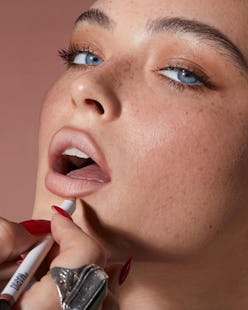 We may receive a portion of sales if you purchase a product through a link in this article.
Join TZR editors for Main Squeeze, the series dedicated to sharing beloved beauty products — be they bold, effective, or simply fun — that make our week just a little bit better. Ahead, Team TZR spotlights their favorite lip liners of the moment.
Lip liner is often associated with '90s makeup. From dark espresso shades seen on Naomi Campbell to rose-colored lines frequently sported by Pamela Anderson, it's hard not to think of pencil's reign during the decade. But the once-forgotten product is having a major comeback. No longer a staple reserved just for makeup artists, the best lip liners are the secret to crafting the perfect defined look. Even better? They're made to work with every skill level and can be used to create a range of styles, from natural to full and plump.
While retro colors like deep brown are having a renaissance, there are plenty of modern, fun ways to use a lip pencil. Love the look of liquid lipstick but hate the mess? Consider using a full-coverage liner with a matte finish to create a similar finish. Want lips that are pillow soft and subtly blurred a la Sofia Richie Grainge? Try lining them with a creamy formula and blending it with a brush that's conveniently connected to the pencil. Or maybe you'd just like to keep your favorite red shade from feathering on a night out. Regardless of your needs, chances are a lip liner can help you achieve the look.
Ahead, the best lip liners TZR editors keep on hand year-round. From simple to dramatic, there's a pencil (or two) to fit any style.
"To me, the ultimate lip liner is one I can use for some careful, subtle outlining to define my mouth, as well as one that can be used as a fill-in color on its own, too. From the minute I first swatched the Kevyn Aucoin Unforgettable Lip Definer in Minimal, I was hooked. Every shade in this collection was formulated to suit skin tones rather than match lipstick colors, which I think is the key to its natural-looking finish. Most days, I use it for some gentle overlining but I love to add the rosy nude all-over — and it's only made easier thanks to the tapered brush on the other end of the pencil." — Amanda Ross, beauty editor, TZR
"I am officially a vampy lip convert. I didn't think the look was suited for me until I tried Monika Blunder's lip liner in the Kelly shade. I love applying the dark berry color as a liner and then using my favorite clear lip gloss to blend the products around my lips. The creamy formula makes for a smooth, easy application."— Maggie Haddad, Sr Strategist, Social Media, TZR
"My lips are pretty shapeless — no, really — so I line them often to create some semblance of a Cupid's bow, even when I'm wearing a more natural, nude lip. The problem is that most liners tend to fade or blend out pretty quickly on me. I discovered these pencils from Makeup By Mario last year and I'm forever changed. Not only do they line like a dream and have incredible staying power, but they come in a wide range of shades (I have them all) so I never have to leave the house with naked, unlined lips again."— Angela Melero Executive Editor, TZR
"I'm rarely without my Dibs lip liner. The compact size makes it perfect for tucking into even the smallest of bags, and I love that it's twist-up so it doesn't require a liner. It gives the silkiest glide, and accentuates my lips just the right amount so that they look naturally fuller."— Faith Xue, Executive Beauty Director, Lifestyle
"This cult-favorite shade is the perfect your-lips-but-better color on me. While it pairs well with the everyday rosy lipsticks I wear, I also like to slightly overline my lips with it (following the Mary Phillips method) and layer a clear gloss or balm over top for a natural look. As for the formula, it glides on smooth and never feathers or fades – it doesn't get any better!"— Erin Lukas, Deputy Beauty Editor, TZR
"I've come to love these liners because they're easy to work with and deliver a finish that's rich in color and isn't too matte. I like to use the lighter colors as a base under my lipstick when I'm doing a nude lip, but they also work well as standalone products. For the most natural look, I'll use shade number 3, a rosewood-like hue, and apply a bit of a rosy lip salve on top. It's the perfect combo for winter."— Jessica Fields, beauty writer, TZR
"I like liners that are buildable and forgiving, moisturizing enough to fill in a good portion of the lips and compliment a range of lipstick shades. It's a tall order but Chanel's Le Crayon Lèvres does just that. Plus, it makes my life much easier when the brush is on the other side of the pencil. I'm a practical gal, what can I say?"— Kathy Lee, Editor-in-Chief, TZR
"I'm one of those people who rarely leaves the house without swiping on some lip product. And because I'm guilty of drinking iced coffee throughout the day, I need a formula that won't immediately rub off my lips. Enter Makeup By Mario's lip liner. I typically layer one of the nude-pink shades under a liquid lipstick, and the products barely budge all day. The liner can be worn solo, too (I'd just throw it in your purse on the way out the door in case you need to reapply)." —Kelsey Stewart, associate fashion editor, TZR
"Confession: I've never really been a lip liner person — it's always felt like so much fuss for something that'll look crazy the second I get my first coffee of the day. However I'm open to giving this Jones Road pencil a whirl, as it seems subtle and soft enough to put on quickly and smudge around throughout the day."— Alison Syrett, deputy fashion editor, TZR
"This was the first lip liners I've ever used. If I'm in a pinch I'll pick this deep wine-colored one up from the drugstore and am always amazed by how good it still is. It doesn't tug or pull when I'm putting it on and it lasts for several hours with little transfer. And it's less than $5, what a steal!"— Fields