The Best Liquid Lipsticks To Take Your Look From Boring To Bold
@patmcgrathreal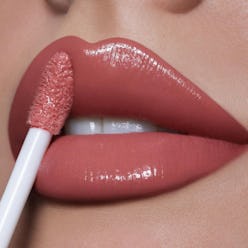 We may receive a portion of sales if you purchase a product through a link in this article.
Join TZR editors for Main Squeeze, the series dedicated to sharing beloved beauty products — be they bold, effective, or simply fun — that make our week just a little bit better. Ahead, Team TZR spotlights their favorite liquid lipsticks of the moment.
A swipe of lipstick may be the easiest way to transform your look. While bullets will always have a steadfast place in many makeup bags, liquid formulas are just a tad more versatile. For starters, they tend to offer a more saturated look and bring the drama with precise application that's hard to achieve with a solid stick. Thanks to doe-shaped wands that allow you to line and smoothly fill in your lips, their accuracy can't be beaten. But the best liquid lipsticks have much more to offer than easy-to-use applicators. Many are equipped with formulas designed for hours of wear, extended comfort, and a flexible feel.
If the thought of using a liquid lipstick is intimidating, fear not – they're actually ideal for creating the perfect matte lip in the blink of an eye. With modern formulas that boast skin-loving ingredients and stretch technology, the category has singlehandedly made creating a bold look a walk in the park. But if you're new to the product and overwhelmed by all of the options, save yourself some time and check out this list of editor-approved options.
"I've been wearing Hourglass for years, and am particularly fond of its Lip Cream, which goes on like a gloss and quickly finishes like a velvety lipstick. The soft, rosy nude shades make for super versatile wear and work with a number of looks no matter the season. Win-win, amirite?"— Angela Melero, executive editor, TZR
"Everything about this Rouge Dior Forever Liquid Lipstick appeals to me: the tapered, petal-shaped applicator for hard-to-reach corners, the long-lasting formula, and the soft matte finish that never feels dry or crumbly. The shade Forever Paris is so amazingly versatile, the best blend of browny-nude with warm pink, and it's truly transfer-proof. It's one of my most reached-for products in general."— Amanda Ross, beauty editor, TZR
"As a huge liquid lipstick fan, I've tested tons of products over the years, but none are as good as Honest Beauty's formula, IMHO. Packed with hyaluronic acid, the lipstick makes my pout feel next-level soft (and, more importantly, not crusty like others I've tried). Not to mention, I only need to reapply the product every few hours."— Kelsey Stewart, associate fashion editor, TZR
"Sometimes I like to use a rosy brown liquid lipstick to create a natural lip look. To do so, the formula can't be too drying or have an extra matte finish. This KVD one, in the color Moonflower, has become one of my favorites because it's comfortable, long-wear, and delivers a finish that falls somewhere between blurred and soft matte." —Jessica Fields, beauty writer, TZR
"I cannot stop talking about this liquid lipstick. Unlike other cake-y, heavy formulas, it features a light, whipped texture that melts into your lips and leaves them feeling magically hydrated. The finish is velvety and soft — a your-lips-but-better effect that makes it the perfect everyday lip product. Plus, you can use it on your cheeks too for a monochrome finish."—Faith Xue, executive beauty director, lifestyle, BDG
"I'm not a huge fan of matte lipsticks, which most liquid lipsticks are, except for when it comes to a good red. Dior's Rouge Dior Forever lipstick has an amazing selection of iconic red shades that always elevate my beauty game. The classic red color truly lasts for hours and never creases around my inner lips. I only wear it on special occasions, but it's so beautiful."— Rebecca Iloulian, director, newsletter revenue and marketing, BDG
"Typically, I'm not a matte lipstick person but I love Pat McGrath's liquid lipstick that comes off smooth and velvety, and gives off the ideal color payoff that isn't too overpowering. My lips feel moisturized throughout the day, and if I choose to add another layer, it doesn't clump together but maintains its smooth finish."— Kathy Lee, editor-in-chief, TZR
"While this is billed as a 'gloss' I'd argue it's mega-pigmentation and buildable nature puts it on par with any lipstick. I love how I can stuck the day with a light tint so as not to smudge all over my coffee cup, and slowly build it up as I make my way through afternoon meetings and evening events."— Alison Syrett, deputy fashion editor, TZR
"I'm convinced sorcery went into the making of this matte true-red lipstick by French makeup artist Violette. It's unbelievably smooth, creamy, and pigmented, but doesn't get dry or flaky as you're wearing it. Better yet, it stays put - I need to use makeup remover to get it off at the end of the night." —Erin Lukas, deputy beauty editor, TZR
"I've been a fan of MAC's Love Me Liquid Lipsticks since its launch. Unlike the others in my stash, this one has a conditioning formula that makes my lips feel soft and hydrated. It's not overly glossy and instead has a nice satin finish that's unexpected. Plus the color payoff is incredible!"— Fields