These Lip Plumpers Give The Illusion Of Filler
Sans needle and price tag.
Angela Melero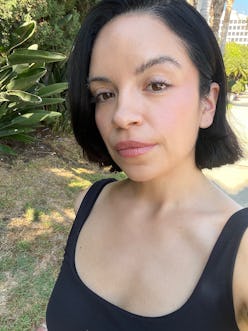 We may receive a portion of sales if you purchase a product through a link in this article.
Let me preface this by saying I am pro-injectables. In fact, I've dabbled in them for about four or five years now, employing Botox or Dysport to prevent forehead lines and crow's feet and Juvederm to fill out my tear duct region. Over the past few months, I've even toyed with the idea of trying filler on my lip area to give me a slightly plumper pout. As someone who already has fairly full lips, I've been torn over shelling out hundreds — possibly thousands — on what would essentially be a subtle enhancement. But as someone who loves the look of pillowy, Rosie Huntington-Whiteley-like lips, I've been eager to find an alternative solution to help me achieve the look without draining my bank account. Enter lip plumpers.
Now, to be clear, plumpers are not new. I recall swiping thick jelly formulas as a teen and twenty-something that tingled for a few seconds and made my lips look shiny and a bit juicier. But, none of the products of yore delivered dramatic filler-like effects. During a recent fateful dinner with fellow fashion and beauty editors, a friend recounted her experience with Polite Society's B.I.G. Mouth Lip Plumping Oil Gloss. She described the bee-sting like tingle that evolved to an almost-burning sensation on her mouth and how, within seconds, her lips inflated into cloud-like shapes. She assured me the product wasn't for the faint of heart, but if I could endure the initial feeling, I would likely fall in love with the product.
Needless to say, I was intrigued. I immediately put my beauty detective hat on and got my hands on the $27 gloss to put it to the test. In my research, I learned that the formula harnesses the power of blueberry oil, organic infinity pepper, and ginger root oil to literally fire up the pout. Indeed, after a swipe each across my top and bottom lip, a strong tingle dispersed, gradually intensifying with each passing second. (As someone with a high pain and discomfort threshold, I found the formula totally bearable, but I can understand how those with more sensitive skin might find it uncomfortable or even jarring.) After a few minutes, I looked in the mirror to see if it was actually working its magic.
I was shocked at the reflection I observed. My flat, crescent moon lips had swelled to appear like shapely freshly stuffed pillows. It truly looked like I had just exited a filler appointment. As the tingling sensation died down over the course of five to 10 minutes, the ultra-plump shape stayed strong, retaining substantial fullness for the next hour or so.
Since that initial trial a couple weeks ago, Polite Society's plumper has been a staple in my makeup bag. I've developed a bit of a tried-and-true regimen that has made my lips the statement element in all my looks. I've realized that a full, juicy pout doesn't always need to come from a needle. Sometimes it can come courtesy of a gel-covered doe foot applicator. My wallet is forever thankful.
Ahead, see the steps and products I swear by for filler-like lips, as well as other plumper options that can help you get a dreamy pout of your own.