10 Cozy Fragrances For Each & Every Fall Vibe
From moody gourmands to mysterious florals.
Jutta Klee/fStop/Getty Images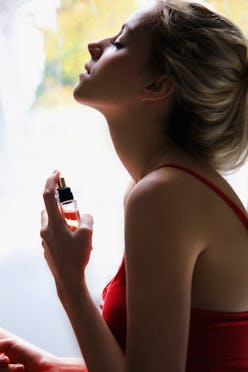 We may receive a portion of sales if you purchase a product through a link in this article.
Join TZR editors for Main Squeeze, the series dedicated to sharing beloved beauty products — be they bold, effective, or simply fun — that make our week just a little bit better. Ahead, Team TZR spotlights their favorite winter moisturizers of the moment.
It can be hard to love the fall. Sure there's the excitement of crisp mornings and sweater weather, but the lingering warm afternoons can make it hard to fully get into the spirit. A seasonal scent, however, is undeniable. Spritzed lightly on the skin or dabbed on the pulse points, a good fragrance has the power to instantly transform your mood and your mindset. November is just around the corner, and the anticipation of chillier days is finally starting to narrow. That said, it's high time to leave behind the salty mists and floral accords that defined your summer for one of the best fall fragrances.
Shopping for a new scent doesn't have to be overwhelming. With a sea of options, you can look to familiar notes to find a fragrance that's ideal for the season. If you love the warmth of vanilla, try opting for an earthy version that's moody. Even floral scents can have a dark and mysterious allure that's timely. Still, a curated collection of editor favorites can help narrow down your selection and make shopping even easier.
Ahead, the TZR team shares their go-to fragrances for fall. From spicy, sweet, clean, and quirky, you're sure to find one to enjoy.
"I love a strong, heady, super distinct smell come fall — the kind of fragrance that really lingers on my coats and sweaters. Phlur's Missing Person has incredible staying power with a rich blend of musk, sandalwood, and bergamot. Every time I wear it, someone asks me what I'm wearing which is what I consider to be the single greatest compliment." — Amanda Ross, beauty editor, TZR
"I typically don't immediately gravitate towards sweeter, more gourmand-like scents, but this one had me hooked at first sniff. Sexy is the only way I can describe this intoxicating mix of tuberose, jasmine, ylang-ylang, vanilla, and hazelnut. I love to spritz this on at night when I'm feeling particularly empowered and, for lack of a better term, hot."— Angela Melero, executive editor, TZR
"Hands down, this is the fragrance I get the most compliments on. Since it launched a few years ago, Eleventh Hour has been my go-to scent. I love the unique blend of warm, spicy notes, which consist of bergamot, carrot seeds, rum, wild fig, and tonka beans. While I do tend to wear it year-round, this fragrance truly embodies fall. I'm currently on my fourth bottle!" — Erin Lukas, deputy beauty editor, TZR
"I tend to stick to super earthy scents in the fall, and I've been a fan of this intricate blend for a while. It has a few of my favorite aromas, like patchouli and bergamot, and some spicer notes, like clove and cardamom, that give it an inherently seasonal vibe." — Jessica Fields, beauty writer, TZR
"I'm obsessed with wearing gourmand scents during the colder months, and D.S. & Durga's spin on vanilla is a darker take that's perfect for fall – instead of a saccharine-sweet scent, this vanilla is smoky and toasted. It's the type of scent that instantly makes me feel sultry, moody, and vibey." — Faith Xue, executive beauty director, Lifestyle, BDG
"I'm always drawn to smoky, woody scents, but especially during the autumn months. This one, in particular, makes me smell like I was at a bonfire on a crisp night the evening before, and the cozy scent of the outdoor flames stuck to my sweater the next day. It's very subtle, so people always notice it and effusively comment when they go in for a hug."— Alison Syrett, deputy fashion editor, TZR
"It would be an understatement if I said I was just a fan of Loewe's fragrance collection. I have everything from its candles, home sprays, to perfumes. I particularly love this fragrance because it hits the right note between warm and fresh scents, like jasmine and musk. It's not overpowering and I never get tired of it."— Kathy Lee, editor-in-chief, TZR
"For the last few months, I've been reaching for this Issey Miyake perfume almost every day. The scent combines lotus blossoms and white flowers but isn't overly floral or sweet. The precious wood undertones make this scent ideal for fall."— Maggie Haddad, sr. strategist, social media, TZR
"I'm obsessed with all of Maison Margiela's fragrances, but its Replica By The Fireplace scent might be my favorite, especially during the fall. The sweet yet smoky smell reminds me of roasting marshmallows at a bonfire on a chilly autumn night." — Kelsey Stewart, associate fashion editor, TZR
"This is technically marketed as a men's fragrance, but I wear it anyway —and it's not so heavy that it feels overpowering. With notes of burning wood and caramelized sugar, it's the perfect fall scent for a night out —every time I wear it, I get compliments."— Xue