Dyson's Game-Changing New Hair Straightener Makes Heat Damage A Non-Issue
Courtesy of Dyson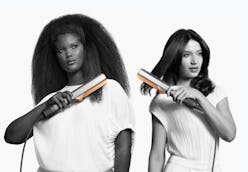 We may receive a portion of sales if you purchase a product through a link in this article.
The original Dyson Airwrap styler debuted back in 2018, but the fervor and devotion surrounding it seems never-ending. Turns out, the only innovative capable of toppling the Airwrap's vice-grip on the beauty industry isn't a competitor — it's a companion. The all-new Dyson Airstrait Hair Straightener is easy to think of as the brand's flat-iron alternative to the juggernaut curling tool. In reality, though, the wet-to-dry brush combines assorted functionalities to smooth and straighten any hair type in any state, infusing it with body and movement without the use of strand-crushing hot plates or harsh, concentrated heat. Prepare your TikTok algorithm now — a deluge of Airstrait demos are coming.
While so many elements of Dyson's new tool are remarkable, the most impactful aspects might be the straightener's universal nature and non-damaging results. Requiring years of research and development, the Airwrap harnesses the same airflow dynamics as other Dyson products (vacuums included) to stretch, smooth, and straighten Hair Types 1 through 4 without blasting with abrasive, cuticle-splintering heat. With two modalities specially designed for wet and dry hair alike, it eliminates the need for an extra blowdryer and round brush in most situations.
"Having a strong understanding of how to manipulate and realize the potential of powerful airflow is fundamental to the performance of the Dyson Airstrait straightener," explains James Dyson, brand founder and chief engineer, in press materials. "Delivering the ease-of-use that people love about straighteners but with high-velocity air blades, saves time, maintains hair strength and achieves an everyday natural straight style."
Essentially, each arm of the straightener is equipped with tiny vents, through which high-speed, downward-facing air blasts. Thanks to the tool's structural positioning, those two airstreams combine into one powerful jet, which uses its velocity and force to smooth and dry the hair. The airstream's downturned direction is also the secret behind the smooth, shiny finish left behind by the Airstrait.
The truly mind-bending aspect of the new Dyson tool, though, is in its hyper-intelligence and self-regulation. To keep hair from overheating and splintering, internal glass bead thermistors continuously monitor the airstream's temperature, measuring it 30 times each second. The tests are automatically sent to the microprocessor inside the straightener (seriously, a processor) which in turn automatically adjusts or maintains the temperature.
If all of this sounds more like a supercomputer than the plated-clamp straighteners of yore, that's the whole point. The future is now, and it has amazing hair.
This article was originally published on