Ceremonia's Shampoo & Conditioner Leave My Fine Waves So Soft
I'm already restocking my set.
Courtesy of Chelsea Avila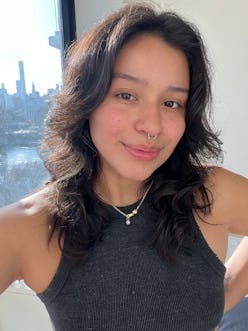 We may receive a portion of sales if you purchase a product through a link in this article.
In our series Trial Run, TZR editors and writers put the buzziest new beauty products to the test and share their honest reviews. This week, beauty writer Chelsea Avila is testing the Weightless Hydration Champú de Yucca and Acondicionador de Cupuaçu.
When the beauty community talks, you listen. For Ceremonia, the recent debut of the Weightless Hydration Champú de Yucca (shampoo) and Acondicionador de Cupuaçu (conditioner) is the result of customers' demands for a more lightweight formula for those with thin and/or fine hair. The Latinx-founded brand's "sister version" of its fan-favorite cleansing ritual is designed to offer equal hydration for this more delicate hair type without weighing it down.
Like the rest of Ceremonia's products, this duo is created with intention. The Champú tackles the root with a sulfate-free cleanser that uses yucca extract to create a gentle lather experience while keeping the scalp's natural oils balanced. As the second step of the wash day routine, the Acondicionador retains the hair's moisture, targets strand flexibility, and delivers shine through its inclusion of castor oil and plant-based keratin.
Given my fine, wavy texture, my hair was the prime subject for the new launch. Plus, as a Latina, I'm excited at the prospect of nourishing my strands — and reaping the benefits — from Ceremonia's roster of powerful plant-derived ingredients inspired by traditional Latin formulas. Ahead, the details on my tangle-free trial of the new launch.
Fast Facts
Price: $20 if purchased individually; Wash Day set of two sold for $35
Size: 8.5 fl. oz each
Clean/Cruelty-Free: Yes
Best For: Fine hair, thin hair, and oil-prone roots
Ingredient Highlights: Yucca extract, cupuaçu butter, plant-based keratin
What We Like: Delivers a natural shine and bounce to the hair without the need for hot tools
What We Don't Like: Nothing!
Rating: 5/5
How TZR Keeps Score: 1/5: Making a return; 2/5: Keeping as a backup; 3/5: Finishing to the last drop; 4/5: Recommending to my group texts; 5/5: Already on auto-replenish
The Formulas
For the new Wash Day Duo, Ceremonia replaces the sulfates and silicones found in typical shampoo and conditioner formulas with natural alternatives. The brand tells TZR, "The Weightless Champú de Yucca consists of yucca stem and guava seed extracts which are sourced directly from Latin America, and the Weightless Acondicionador de Cupuaçu contains cupuaçu seed butter, also derived from Latin America."
Ceremonia founder, Babba C. Rivera, says yucca extract naturally foams, and since the ingredient has a pH level on the acidic end of the spectrum, it is just the right scalp cleansing agent to include in the shampoo. The brand also learned from the fine hair community that one of the main concerns they have — and a concern I can wholeheartedly relate to — is that their roots tend to get oily fast, which is why witch hazel is also incorporated to keep the scalp healthy and balanced.
In order to provide hydration to thinner hair without weighing it down, Ceremonia turned to innovative plant-based keratin when formulating the new conditioner. The brand says, "Our plant-based keratin is made up of an optimized vegan protein technology to repair, strengthen, and lightly hydrate hair."
As for the scent of the shampoo and conditioner, it's luxurious and reminds me of being at a relaxing spa. Rivera described the scent to me as one that is special, provoking a sense of nostalgia for the Swedish-Latinx beauty founder. The key note is tonka bean, which she explains is native to the Latin American region and has been used in fragrance for centuries. For me, the scent is uniquely citrusy yet reminiscent of eucalyptus leaves steaming in the shower. And now that I only have a few pumps left in my Wash Day duo, I give the inside of the bottles a sniff for some aromatic novelty.
My Typical Hair Care Routine
To this day, I still don't know how to properly style my hair with a blow dryer and a round brush for that sought-after bombshell blowout I admire. That said, I prefer to rely on my hair brushes to detangle and shape my waves. It starts in the shower with a detangling brush during my three-times-per-week wash routine. As I rinse out my conditioner, I give my strands a comb-through with Denman's hand-size D6 Original Be Bop Scalp Massager & Shower Brush. Then, after stepping out, I define my natural, still-wet waves by sectioning off the front, the middle, and the back layers, twirling each section into the spirals of a wet-styling row brush. And when the hot tools come into play, I look to my blow-drying brush for support and a dab of hair oil for heat protection. Oh, and, you will find a silk scrunchie in my purse at all times in case it's a low-bun type of day.
My Experience & Results
I like to take my sweet time applying both the shampoo and conditioner during my wash day process. I massage the shampoo along the front of my hairline, work my way to the hair that sits behind the ears, and down along the nape of my neck. As the shampoo foams up, I spread my fingers through the crown. On the water temperature front, lukewarm water keeps it all very soothing. And when it's time for conditioner, I scrunch up my wavy layers into my hands with half-a-palm-size amount of the conditioner from the tips up to the temples. That's when I give my hair a cold plunge cool rinse to seal the cuticle together.
The dynamic mix of natural ingredients in both formulas work together to deliver shine, bounce, and fortification to the hair without needing to do much else. This is a welcome reprieve from my usual routine of masking frizz, excess oil, and barely-there movement with an overload of hair products once I step out of the shower in hopes of a seamless air-dried finish.
Before using Ceremonia's Weightless Hydration Shampoo & Conditioner. Courtesy of Chelsea Avila
After using Ceremonia's Weightless Hydration Shampoo & ConditionerCourtesy of Chelsea Avila
Is The Shampoo & Conditioner Worth It?
I'll be honest with you, I didn't cross paths with Ceremonia until last year (I know, I was late to the party). At this point, the beauty industry was already enamored with the brand, its cruelty-free products, and breath-of-fresh-air packaging. With this launch dedicated to those with fine textures, Ceremonia continues to further Latinx representation on the beauty shelves. Truly, both the original and Weightless Hydration duos are a win-win — it just depends on the set that's right for you.
As for me, the Weightless Hydration products sit pretty on the shelf in my shower and cleanse my scalp while bringing just the right amount of moisture to my hair. And now, even my partner is a fan of the duo, too.