This Superpower Ayurvedic Fruit Brings Mindfulness To Your Beauty Routine
Ideal for healthy, glowy skin & hair.
@crownaffair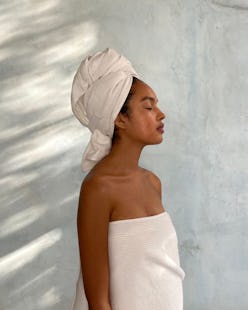 We may receive a portion of sales if you purchase a product through a link in this article.
From quick-fix procedures to multitasking products that cut out an extra step or two, all facets of the beauty industry are expected to move fast. But as the shift to slow beauty continues to gain momentum, how we approach our routines is beginning to change. In place of one-and-done products, there's an emphasis on rituals, from double cleansing and scalp massage-focused hair-washing. Rooted in culture and tradition, it's no surprise that many of these methods come from Ayurveda traditions centered around natural ingredients. Amla beauty products are just such an example of an ancient botanical that's gotten particularly buzzy.
Also known as Indian gooseberry, the extracts collected from the amla plant and its fruit have long been known to hold a multitude of benefits for both skin and hair. Although new to the beauty set, the use of Indian gooseberry as a holistic approach to skin care is far from a fresh idea. In fact, the practices of Ayurveda are built on ingredient-focused remedies and a mindful perspective.
Amla may be the current darling of the industry, but like many other plant-derived ingredients, the basics of how it works and how to use it are still a mystery to many. Not to worry though, as TZR is breaking down the ingredient with the help of three founders of Ayurveda-based beauty brands.
Amla, Ayurveda, & Beauty
There are a few different species of gooseberry plants grown worldwide, but amla is indigenous to India and deeply rooted in its rituals. "In Ayurveda, amla is considered a rasayana, meaning it supports the essence of life and is intended to rejuvenate and preserve age," says Shadoh Punnapuzha, founder of Ayurvedic line, Taïla Skin Care. However, when it comes to Western beauty products, natural ingredients are often stigmatized as not being as strong or effective as lab-produced options.
There is a virtue in the use of Ayurvedic skin and hair care routines that has been respected in Indian cultures for centuries. With that long history also comes hesitation from Western consumers who are new to the term. This is why brands such as Squigs Beauty, Taïla Skin Care, and RANAVAT are working diligently to bring the mindful approach into the 21st century.
"Growing up with these traditions, it was clear that all types of people can benefit from customs such as hair oiling if only they knew about it," says Nikita Charuza, founder and CEO of Squigs Beauty. So the idea to create products utilizing amla and other ayurvedic ingredients was formed to make this system relative to any routine no matter what stage of life you're in.
The Benefits Of Amla
For Skin
Each part of the plant, from the stems to the leaves and fruit, contains highly potent levels of antioxidants and vitamins beloved by the skin. "Amla is actually known to hold the highest concentration of vitamin C of any plant and is the richest natural source," says Punnapuzha. Because of this, it's used in skin care products to brighten, even tone, and effectively combat hyperpigmentation.
However, unlike synthesized forms, amla is naturally derived so it assimilates well with the skin's biology. "On the surface, it helps with suppleness to give skin a glow," notes Punnapuzha. But rich in powerful antioxidants, like gallic and ascorbic acid, it fights damage caused by UV rays, external pollution, and free radicals.
According to double board-certified adult and pediatric dermatologist and fellowship-trained cosmetic dermatologist, Dr. Karan Lal DO MS FAAD, amla has even been shown to have enzymatic activity in preventing the breakdown of collagen making it an ideal ingredient for anti-aging products.
For Hair…
As you can imagine with such powerhouse components, the benefits of amla extend well beyond the skin. "In the Indian community, amla is used for skin care, gut health (when ingested), and hair care because of its antibacterial and anti-microbial properties," says Charuza. In that vein, she explains that for the scalp, it helps mollify dryness that can lead to itching but also protects the skin from environmental stressors like pollution dust, and radiation.
But one of the most notable benefits of this plant is how it stimulates and promotes hair growth. "Through hair oiling, you're working at the scalp but you're also enriching the strands to nourish and strengthen it from the root down," says Charuza. She continues telling TZR, that amla has also long been used in natural hair dyes and remedies to reduce signs of greying and even hair loss.
How To Incorporate Amla Into Your Routine
With ancient roots in Ayurveda, amla has been used for centuries in Southeast Asia and India, but because it has just recently made its way to the Western market, incorporating it into routines is still foggy. However, Dr. Lal assures that it is safe for all skin types and products containing it can easily be added to existing regimens. "Plant extracts are becoming the new way of incorporating different mechanisms for treating and preventing skin damage," he says, "and with that in mind there are no real downsides of using amla-based skin care products."
But given amla's potency and high concentration of vitamin C, Dr. Lal recommends following its use with a broad-spectrum SPF in the morning as you would with synthetic versions.
As for hair routines, Charuza tells TZR that using amla formulas for hair oiling or overnight to deeply condition is the best way to incorporate it into your current system. "With its scalp nourishing capabilities, allowing the oil to sit on your hair brings a holistic approach to your routine that delivers long-term benefits," she says.
The Best Amla Products For Skin & Hair