HoliFrog's New Sunscreen-Skin Care Hybrid Could Convert Even The Most Stubborn SPF Holdouts
Courtesy of HoliFrog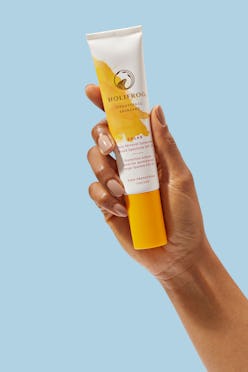 We may receive a portion of sales if you purchase a product through a link in this article.
When HoliFrog co-founder Emily Parr was navigating her teens and 20s, she thought of sunscreen — the way many do — as a lose-lose binary. "I had an SPF phobia," she explains to TZR, averse to the stuff not out of a desire for bronzed skin, but breakouts often left behind by the thick, pore-irritating chemical formulas of yesteryear. It makes sense, then, that the new HoliFrog Solar Daily Mineral Sunscreen would be both zinc oxide-powered and a satisfying, sun care-skin care hybrid that never forces the wearer to choose between protection and pimples. Parr's a full-fledged beauty mogul by the point, but her real-life experiences, frustrations, and revelations are part of what gives HoliFrog — and the latest addition to its lineup — such an edge.
Just launched in time for summer and increased outdoor activities, Solar features a mineral formula infused with classic skin-soothing, barrier-strengthening ingredients that make the cream feel like its actively enhancing skin along with physically shielding it from UVA/UVB rays. "We needed Solar to have the proper dose of non-nano zinc oxide for SPF 30 broad spectrum coverage, of course," Parr says, "but we also wanted to ensure that it served as your skincare if all you do is cleanse, apply, and go."
Really, the sunscreen has the sort of user-friendly attributes that could only come from someone who personally experimented with earlier iterations of similar products. This isn't an engineer-first-market-later production approach — HoliFrog's entire holistic line is centered around intention and thought.
Parr tells TZR that once she realized Solar had to be mineral, she set out combating the pitfalls that come part and parcel with zinc oxide-based sunscreens. For example, as minerals are naturally mattifying and thusly drying, Parr and the team made sure to include softening, water-trapping ingredients like kakadu plum oil, watermelon seed oils, aloe, and coconut water, as well as linolenic acid and phospholipids for moisture barrier fortification. But Parr takes it even further — she's been there before, remember? "Antioxidant selections were where I really got to play," she shares. "Because the sun can create excess oil production for me and those who lean towards oily, meadowsweet extract actually inhibits the enzyme that can trigger this."
As far as actual sun-shielding goes, Solar boasts both garden cress and silymarin alongside zinc oxide, two ingredients selected by Parr for natural UV radiation-mitigating properties. "Since I am a total freak about breaking out from sunscreen, we topped the formula off with green tea polyphenols which have antimicrobial and anti-inflammatory benefits," she says, even adding that she often wears Solar at night to dinner because of the hydrating, bouncy glow teased out with extra ingredients like artichoke leaf — no white cast to be found thanks to some clever, universal tinting.
Those already familiar with HoliFrog's back-to-nature approach to skin care have been waiting on a product like Solar from Day One. An easy-to-understand authority in the often-nebulous "clean beauty" space, the thoughtfully-selective ingredients offer peace of mind in more than once sense. "It's taken a while for the clean beauty industry to catch up in the SPF category," Parr explains. "Traditional formulas are chemical screen and silicone based because of zinc oxide's white cast and silicone's waterproof appeal. It's taken time for the more advanced raw materials and chemists now finally be in position to create sophisticated mineral sun protection products."
If there were ever a place to start, it's here.