Zoë Kravitz's Wedding Gown Was Completely Unexpected — Here's Why It Was A Perfect Fit
Bertrand Rindoff Petroff/French Select/Getty Images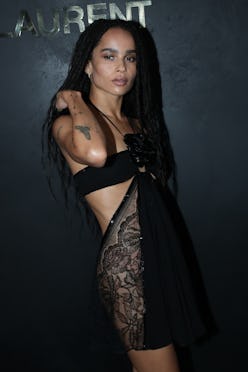 If you found yourself scrolling through Instagram on New Year's Day, chances are you saw a fair share of post-NYE photos on your feed. Some may have featured a sparkly outfit or two, while others included captions sharing a hopeful outlook for 2020. That being said, the turn of the New Year (and in this case, new decade) always comes with a handful of retrospective posts on past milestones. And if you happened to stumble across Zoe Kravitz's wedding pictures, you know that the actor was reminiscing on one of her biggest moments of 2019.
A lot can be said about Kravitz's sense of style. From perfectly nailing the Los Angeles-meets-New York bohemian edge to practically defining the "cool" aesthetic, there's no doubt that the Big Little Lies star knows how to dress. And while she often goes for an ensemble that verges on the side of dark and sultry during her red carpet appearances and other major events, the 31-year-old actor opted to wear a classic look for her wedding.
Much like celebrity engagement rings, when an A-list star takes on the task of planning their bridal look, the stakes are higher. More often than not, as you've seen with Hilary Duff and Hailey Baldwin, Hollywood's elite members will enlist a designer to design a custom gown for their walks down the aisle. For her wedding to actor Karl Glusman, Kravitz teamed up with Alexander Wang — a designer who shares Kravitz's sense of chic edge.
On June 29, 2019, Kravitz walked down the aisle wearing a vintage-inspired tea-length dress. Featuring a boat neckline with delicate beading and a drop waist, the custom wedding gown — which the actor paired with simple ballet flats and a headband — felt reminiscent of another famous bridal look: the Givenchy wedding dress from Audrey Hepburn's Funny Face.
As someone who wore a beaded dress, bike shorts, and a matching bandeau top by Danielle Frankel for her rehearsal dinner, such a classic look from the bride may have come as a completely unexpected, but pleasant surprise. However, considering that her wedding took place at her father Lenny Kravitz' Paris mansion, the classic silhouette was only fitting.
Keeping in line with the simplicity of her gown, Kravitz kept the rest of her ensemble on the minimalist side by wearing stud earrings to accompany her wedding rings. As for her reception, the actor returned to her signature aesthetic of cool, wearing a satin corset with a slip skirt.
Ahead, are a few tea-length dresses for brides that want to copy her timeless wedding style.