15 Ways To Wear Bike Shorts When You Have Zero Intention Of Going To The Gym
Cornel Cristian Petrus/Shutterstock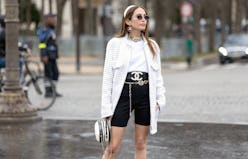 Break out the spandex: Just like leggings before them, stretchy sport shorts are the latest item of athletic apparel to become an everyday wardrobe basic. Bike shorts are a major trend for spring 2019, but this time around, it has nothing to do with exercise or physical performance. Whether inspired by Princess Diana's mid-'90s vibe or Kim Kardashian's Yeezy 'fits, women are finding plenty of inspiration to test out some version of the trend. Even up-market designers have embraced the trendy look's potential, with labels like Fendi, Dior, Chanel, Nanushka, and Maryam Nassir Zadeh all showcasing stylized riffs on cycling shorts in their runway collections for this season.
For a garment so simple and, at its core, sporty, it's surprisingly versatile. The newest versions range from solid black to neon hues, fun prints, and cool design details like lace-up fronts, graphic waistbands, or lace-trim hems. With the right styling tricks, the bike short can just as easily be made to look elegant and polished as casual and cool. Look to the countless influencers and celebrities that are cosigning the trend for proof.
If you're looking for the easiest way to wear the trend, an oversized blazer and bike shorts is a go-to combo for fashion girls now. Add a pair of low heels and it's practically office-appropriate. Some creative dressers have taken to wearing theirs with flirty, feminine tops and puff-sleeve blouses for an unexpected, avant-garde mix. Others go for a sexier look with their cycling shorts, embracing the style's body-hugging form. Of course, you can always take the trend back to its roots, playing into the '90s sportswear vibe with other normcore staples and nostalgic accessories.
Continue below for some trendy bike short outfit inspiration, and at the end, shop some of the coolest styles this season has to offer.
We only include products that have been independently selected by The Zoe Report's editorial team. However, we may receive a portion of sales if you purchase a product through a link in this article.
A sharp blazer and classic button-down shirt make cycling shorts look a million times more business-friendly. Add a pair of pointy-toed kitten heels to complete the 100% polished transformation.
Take the sportswear staple to feminine territory. A voluminous blouse and floral-print cycling shorts is a combo that completely sheds any association with gym apparel.
Keep things simple and cool through the warm-weather months. A flowy short-sleeve blouse and simple cycle shorts is a laidback and unfussy look you can do different riffs on all season long. Pair with low block heels and a ladylike tote to keep things refined.
Throw it back to an '80s vibe, updated with modern touches. Wear your black bike shorts cinched at the waist with a chainlink or statement-buckle belt (or both, as shown here), then add an oversized tweed jacket, a padded headband and indulgently layered cocktail jewelry.
Channel your inner Princess Diana with a ensemble inspired by her mid-90s garb: a boxy denim jacket and slouchy sweatshirt on top, and basic bike shorts, tall sport socks, and sneakers on bottom.
You may already wear boyshorts under some dresses for convenience and extra coverage, so why not just make them part of the look? Tuck a the hem of a slinky slipdress into the waistband of your shorts. Optional: Add a fanny pack to keep the strategic draping in place while upping the cool-kid points.
Keep it sleek and sporty in a form-hugging black turtleneck tucked into black bike shorts with a graphic waistband detail. A slouchy bomber jacket in a bold color keeps the athletic theme intact and creates a stylish contrast.
A bustier-inspired camisole top and oversized boyfriend button-down creates a look that's equal parts effortless and sexy. For spring and summer, wear with a pair of low square-toe sandals.
Sometimes '90s nostalgia is where it's at. Play up the throwback vibe of bike shorts with a fun neon colored pair and a perfectly worn-in tee. Accessorize with a fanny pack, some hair clips or a scrunchie, and a pair of tiny sunnies.
A modern khaki trench was made for spring. Layer it with your bike shorts outfit and finish with snakeskin mules for an extra trendy touch.
Stretchy shorts and sneakers are two styles that the fashion world has freed from their sporty roots. Just as you can get away with wearing trainers and a sundress, you can also pull off wearing bike shorts and chunky sneakers with a romantic floral blouse.
Style bike shorts with a preppy, colorful twist. Choose shorts in a bright, spring-ready hue, then add the prep factor with a pastel striped oxford shirt, a Crayola-colored knit worn draped over the shoulders, and classic loafers.
For a more unique take on the see-through trend, wear a basic crop top and shorts set as the base layer under a sheer dress instead of the usual slip lining.
Animal print is one of the season's most prevalent trends, so leopard spots on cycling shorts was to be expected. Black and neutral-toned pairings let the edgy print take the spotlight, while heeled boots complement leopard's inherent glamour.
A tissue-thin turtleneck and plaid blazer make bike shorts a bit more wearable during transitional weather. The thin leather belt at the waist is an elegant touch that elevates the overall ensemble.