Even If You Aren't Getting Married, Hilary Duff's Wedding Dress Offers Ample Inspo
E! Entertainment/NBCUniversal/Getty Images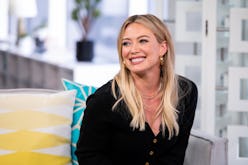 Whether you're a soon-to-be bride or just seeking inspiration for holiday gatherings, Hilary Duff's wedding gown features an unconventional silhouette that's worth taking note of. The actress married musician Matthew Koma over the weekend in an elegant, floor-sweeping design that's not only ideal for winter nuptials, but for formal events, too.
The couple tied the knot in an intimate affair at their home in Los Angeles, according to People. For the occasion, Duff wore a custom Jenny Packham gown that she showed off in an Instagram post with her new husband in front of a Jeep Wagoneer with "Just Married" written on the back. The mom-of-two also shared a clip from a Vogue video where she spoke about the details of her wedding look. "I sat down with my stylist, Jessica Paster, and we went through many, many, many designers, and we together settled on Jenny," Duff told Vogue in a video.
It just so happens that Duff's clean, modern dress design is one that's perfect for the cooler months. The long ivory gown features pronounced, structured shoulders and cape-like sleeves that flow down to the ground to create a train. Meanwhile, the back of the dress is open from the neck to the waist with buttons that cascade down from the waistline to the hem.
"I want Hilary to feel how I think she wanted to feel in this dress from the direction that we had, which is very modern, and it's quite a bold look," explains Packham in a video for Vogue. "And, more than anything, I wanted her to feel immensely confident in it, and it's a very confident look."
The actress sported her new short bob hairstyle, but kept her golden locks off her face by tucking her tresses behind her ears. Adding a little bit of wave in the back, she finished off her hair look with a thin, pearl-adorned headband designed by Jennifer Behr, which complimented her delicate, long sparkly earrings.
So, if you love a modern, minimal design that still brings eye-catching details, this is one dress you'll definitely want to bookmark for winter events — whether you have a ring on your finger or not. Ahead are a short-list of similar designs that evoke the same wintery feel.