YSL Beauty's New Fragrance Is A Twist On A Classic — In More Ways Than One
YSL Beauty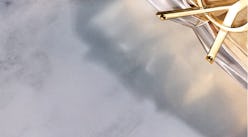 Just like the clothing your wear, the makeup you apply, and the decor in your home, the fragrance you choose is an expression of who you are — in the moment. And one of the best things about life is the fact that you have the power to change things up whenever you see fit; you're free to don the clothes that make you most confident, match your makeup to your mood, streamline your spaces to suit your aesthetic, and yes, spritz on the scent that feels most true to you. YSL Beauty's new Libre fragrance is that sense of freedom in a bottle, an encapsulation and celebration of everything that makes you, you. So, yeah, you're going to want to try it ASAP.
From the beginning, Yves Saint Laurent hasn't been one for convention. After all, the famed designer did take the classic mens tuxedo and completely retool it to create women's evening wear (a supremely daring undertaking back in the day). So when it came to developing a fresh new fragrance, you'd better believe it'll be unexpected, unique, and of course, undeniably glamorous. After seven years and over 1,500 iterations, YSL Beauty's Libre is finally here, and it was worth the wait.
Officially landing August 2019, the brand-new fragrance from the iconic luxury beauty house perfects a balancing act. Created by master perfumers Anne Flipo and Carlos Benaïm, Libre manages to be both feminine and masculine, spicy-sexy and subtle-cool, sleek and striking. It plays by its own rules, and believes you should too — after all, Libre translates from French to mean "free".
Libre is characterized as a fougère, which is a classic fragrance style typically marketed towards men (although it was initially introduced to a female audience, before being adopted by the guys instead). As with traditional fougères, Libre features fresh lavender at its heart, but with a freestyle take that brings the fragrance back to its feminine roots.
Diva Lavender heart from Provence provides a flamboyant sweetness that's recognizable yet unique, mingled with sexy, warm notes of orange blossom absolute. Bright, dazzling notes of neroli and citrusy mandarin bring a juicy sense of warmth, and smoldering Madagascar vanilla and ambergris Grisalva complete Libre's intense feminine expression. The resulting bouquet is a new, ultra-sexy floral that's utterly cool.
You'll be able to get your hands on this reconfigured classic soon, so be sure to watch YSL Beauty's social media for more updates and inside details on Libre's launch.