YSL Beauty Added A New Lip Stain To Its Lineup — Here's Why You'll Love It
YSL Beauty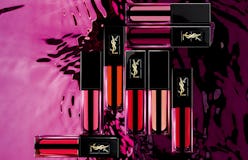 Now that it's almost August, high heat and humidity have likely become the norm in your neighborhood. And while the sweaty weather that leaves your skin feeling sticky may currently be unavoidable, you can at least wave goodbye to a sticky pout thanks to YSL Beauty's new Water Stain. The newly released set of lip shades from the luxe beauty brand gives you the best of both worlds: glossy, luscious color that feels both light and fresh on your lips.
The collection is composed of 16 hues that each ring in for $37 a tube. You'll have your pick of a range of shades that the brand has even separated into color categories — "Neutrals & Mauves," "Reds & Corals," and "Pinks & Plums" — to make snagging your favorite hues that much easier. On top of that, you can add a complimentary engraving, like your initials or a special date, to the cap of your new lip stain.
And while the color selection and customizable packaging are both definite perks, it's the lip stain's formula that's likely to really win you over. Composed of 40 percent water, the hydrating, high-coverage stain promises to give you high-gloss shine without the tacky finish, plus long-lasting, intense color that's lightweight and comfortable enough to wear from day to night.
"What I love about this new Vernis a Levres Water Stain is that you can build the intensity easily," said YSL's Global Beauty Director, Tom Pecheux, in a press release from the brand. "It is luminous, and can be more or less intense according to how you apply it, but it always feels weightless and watery on the lips, so it is great to wear."
To apply, the brand suggests using the pointed tip of the applicator to line your lips before you use the curved part to fill them in with outward strokes toward the corners. You can opt for a more subtle dose of shiny color by just applying one coat, or you can create the ultimate high-impact pout by applying a second and third coat.
Continue on to see and shop several stunning shades from the new lip stain collection, and head to YSL Beauty to view the rest.