This Olive Oil Company Just Launched An Entire Skincare Collection
Wonder Valley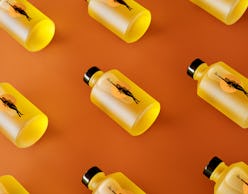 Of all the natural beauty remedies that split their time between kitchen and bathroom cabinets — turmeric spot treatments, apple cider vinegar rinses, Manuka honey masks — none has quite as glamorous a history as olive oil skincare. "Greek Olympians bathed in this oil, Roman kings were anointed in it, and queens and Egyptian royalty applied it as an early anti-aging solution," Alison Carroll, the founder of Wonder Valley Olive Oil (you've probably spied its olive oil on the shelves of Moon Juice and CAP Beauty), tells The Zoe Report. This long, luxurious background is partly what inspired the brand, best known for food-grade oils, to pivot into skincare late last month.
The category launch includes three clean, natural, unisex products that you'll probably want to add to cart immediately: an Oil Cleanser, Face Oil, and Body Oil. "In this day and age of allergies, restrictive diets, and trending foods, olive oil endures," Carroll explains. "It is this beautiful, timeless common denominator, and we wanted to take that approach to skincare." The core offerings — the first from the brand, but not the last, the founder emphasizes — are meant to help pare down your skincare routine to just the essentials. "We all wash our face and we all moisturize our face and body," Carroll says. "These three initial products elevate these daily rituals."
As with all things, a nice outside certainly doesn't hurt (Wonder Valley's bottles are almost too pretty to open… almost), but it's what's on the inside that counts. In this case, that's, well, a lot of olive oil. "We believe in olive oil as a true Fountain of Youth," Carrol says — and science concurs.
This single substance is filled with a veritable who's who of skin-healthy nutrients; first and foremost, polyphenols. "Polyphenols are the powerful antioxidants associated with longevity of life," Carrol explains; antioxidants being free radical-fighters that prevent and treat signs of aging, including fine lines and age spots. The, there's naturally-occurring squalane: "A skin-strengthener and softening, hydrating, natural component of the epidermis — so it's very balancing," the founder shares. Add Omega-6 and -9 fatty acids (to boost the skin's barrier and tame inflammation), palmitic acid (an emollient that hydrates), and vitamins A, K, D, and E, and you've pretty much got yourself the perfect face oil.
But Wonder Valley's skincare products don't rely on olive oil alone. "There are other ingredients that we like to work with," Carrol says, "natural powerhouse oils like rosehip and sea buckthorn that fight inflammation; are rich with vitamins, amino acids, and essential fatty acids; and help even pigmentation, improve elasticity, and alleviate dryness." Her favorite — after olive oil, of course — is jojoba. "A hearty and tenacious desert plant, it is a very dry and lightweight oil, technically a wax, that resembles our body's natural protective oil, sebum." Since acne issues usually come down to an imbalance in sebum production, Carroll says "using jojoba in your skincare creates a homeostasis." (Dermatologists agree, by the way.)
If your first thought here is "woah, oil overload," that's fair — but misguided. "I want to shake that negative, dated idea that oil is bad. Oil is the answer," Carroll counters. The founder herself was oil-shy in her formative years, but working with oils hands-on (she was the Marketing Director for the California Olive Oil Council in the Bay Area before starting Wonder Valley) changed all of that. "[After using the Face Oil], my combination of oily and dry skin went away, my acne and clogged pores improved, and my skin felt dewy, rejuvenated, and deeply hydrated," she shares. It's also important to note that Wonder Valley's skincare products may be "oil-heavy" but they are not "heavy oils." In other words: They absorb quickly and don't leave behind the dreaded greasy sheen.
It helps that the products are made with top-notch, consciously-harvested olive oil — from Wonder Valley's own grove, of course. "We produce an extraordinary extra virgin olive oil that is a blend of Tuscan olive varietals grown in Lake County in Northern California," Carroll says. The climate is similar to that of the Mediterranean, and the area's humidity levels allow for sustainable dry farming practices. "We intentionally pick our fruit under-ripe — atypical for the industry standards — which results in a really bright, peppery, green oil that has a longer shelf life and also a higher concentration of polyphenols," she says.
Ahead, discover the wonder of Wonder Valley's first foray into skincare. Finally, your bathroom shelf can have some olive oil of its very own.
Shop Wonder Valley