13 Skincare Products That Are Good For The Planet *And* Your Complexion
YLLO Beauty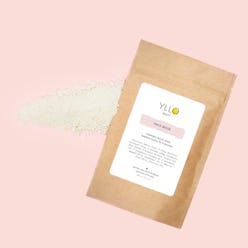 The question of sustainability is one that nearly every industry is trying to answer with innovative ways to cut back on waste, from Starbucks' ban on straws to fashion's call for more made-on-demand clothing. Beauty enthusiasts, too, are doing their part to make environmentally-conscious choices — whether that's through participating in "low buy" or "no buy" months, seeking out brands that use recycled packaging, or supporting companies that ethically source ingredients. But in the quest for sustainable skincare, one major area of the industry has been overlooked: water waste. According to beauty brands championing dry masks and oil-based essentials, water-free skincare products are the eco-friendly beauty step your sustainable routine is missing.
"Well, the dirty little secret is that the $3.4 trillion global beauty and wellness industry is wasting water," Tina Hedges, the founder and CEO of LOLI Beauty, tells The Zoe Report. "Check out the labels on your skin, hair, or body care bottles — you'll find most of them list 'aqua' as the first ingredient." I took Hedges' challenge; she's right. And since labels' ingredient lists appear in descending order, that points to a whole lot of water just sitting on the shelf. "Essentially, those 12 to 15 products in your beauty cabinet are up to 90 percent just plain, purified water," Hedges claims.
To be clear, water isn't a necessarily a bad or even useless ingredient. As a solvent, water helps dissolve potent actives and when blended with emulsifiers and oils, it seals hydration into the skin. "Nonetheless, it just doesn't make sense to purchase expensive moisturizer in a jar or bottle that's mostly plain water, despite that around 700 million people across 43 countries today are suffering from water scarcity," Hedges says. According to a 2020 trend report from forecasting agency WGSN, this checks out. "Water remains a key area of concern, particularly across Asia, where China's second most threatening environmental issue continues to be water shortage," WGSN reported.
With LOLI, a skincare company that boasts zero-waste, food-grade, waterless products, Hedges is on a mission to "stir up" the skincare industry and prove that water-free skincare is not only possible — it's more effective, too.
"Our approach to waterless beauty is based on offering effective products that aren't diluted with tons of water, an inactive and a bacteria-breeding ingredient," Hedges says. The brand's Purple Corn Grains base, a dry exfoliating powder, is a standout — it's meant to be mixed with a touch of water, hydrosol, or vinegar at home and used as a mask or scrub. "Our water-activated ingredients remain fresher and more potent since they haven't been sitting on a store shelf, diluted in water and over-packaged in plastic for 12 months," the founder says.
It's true that water encourages the growth of harmful bacteria, and skincare products with a high concentration of water also require a high concentration of preservatives — often of the chemical variety, since safe, natural preservatives are few and far between — to extend their shelf life. "You may have better luck achieving a preservative and chemical-free face mask by using a high quality powdered [formula]," Dr. Jennifer Vickers, a dermatologist at Sanova Dermatology in Texas, confirms in an email to The Zoe Report.
Waterless skincare isn't the only way that LOLI Beauty is stirring up the concept of sustainability, though: The brand also favors ingredients that have been up-cycled from organic food waste that would've otherwise ended up in landfills. "If there is an ingredient with a supply chain that generates waste, we up-cycle," Hedges says. "For our Plum Elixir, we work with a farm in France to cold press the kernel of the plum that is discarded when they make prune juice or pitted plums." The Date Nut Brûlée is sourced in a similar fashion, from factories that specialize in pitting dates. "They are also really powerful skin and hair ingredients," Hedges tells TZR.
Of course, sustainable skincare is about more than just what goes into the products — it's also about how the product goes into the world. "Sustainability influences everything from how we source and formulate to how we package and ship our products," Hedges says, citing the LOLI's "recycled, reusable, recyclable, certified biodegradable, and approximately 90 percent plastic-free" packaging. She adds that the company uses only responsible manufacturers that are USDA Certified Organic, ECOCERT certified, or FSC certified — many of whom use biodynamic practices to grow ingredients and wind energy to produce.
"According to research, 27 percent of consumers are conscious of water usage and looking to change their habits," Hedges tells TZR — a number that's sure to grow as eco-friendly beauty practices become the norm and LOLI spreads its influence. If you're among those searching for ways to help the environment via your beauty routine, waterless skincare is a great place to start.
Ahead, 13 waterless products to add a touch of sustainability to your skincare collection.
Shop Waterless Skincare