Here's Why You Should Try Skipping Facial Moisturizer Once In A While
Peach & Lily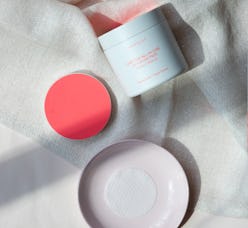 My skincare shelf overflows with a variety of toners, essences, serums, moisturizers, and oils… and that's just the morning routine. If you're similarly starting to realize that the whole 10-step thing isn't for you, then the "skip-care" skincare trend is about to be your skin's (and your sink's) new best friend.
Skip-care, in a nutshell, is the concept of paring down the number of products in your daily regimen and keeping only the essentials in rotation — and surprisingly enough, it originated in the same place that popularized the 10-step system: Korea. "Statistics show that South Korean women are the number one consumers of cosmetic items in the world, applying between five and nine beauty products to their skin every morning and evening," Angela Kim, a K-beauty expert and the founder of Savor Beauty, tells The Zoe Report. "The result is great, but let's be honest, most women don't have the time or patience to do all of these steps."
That's precisely why multitasking products are on the rise in South Korea and the U.S., like Peach & Lily's Lazy Day All In One Moisture Pads and Re:p PhytoCELL Cell Moisture All in One Essence (both act as a toner, essence, and moisturizer in one). Innovations like these mean that you get all the benefits of the extra steps… with none of the actual extra steps. "Plus, when your skincare routine is more realistic and manageable, you will actually do it consistently, which yields results," Kim says.
You don't have to rely on multi-use products to try the skip-care trend — it can be as simple as cutting out the steps that aren't necessary for you or your skin type. "There is no right or wrong answer to how many steps make up the 'best' skin care routine, and everyone's needs change over time," Dr. Sejal Shah, a dermatologist with SmarterSkin Dermatology, tells TZR. "A 10-step routine is not necessarily better or worse than a more minimalist routine, and the basic philosophy between the two is pretty similar: cleanse, treat, and protect." The dermatologist notes that as long as you have those three bases covered, you're good; calling cleansing, moisturizing, and applying sunscreen "non-negotiable."
"Never skip washing your face," Kim agrees. "When you skip this important step, free radicals can break down your collagen and elastin overnight, leading to breakouts and aging skin." For the moisturizing step, your options are (almost) endless: You could grab one of the aforementioned multitaskers, stick with your trusty cream moisturizer, or just go straight for a hydrating facial oil. "In the morning, I love starting the day by layering on beauty oils to allow my skin to drink in the nourishment," Kim says. "I skip the cream to allow the beauty oils to act as an ultra-hydrating leave-on mask."
When it comes to SPF, dermatologists recommend using a product that's strictly about sun protection, since moisturizers with SPF built in tend to be less effective. Layer Kari Gran Three Sixty Five SPF 28 over your face oil, or slather on a coat of Supergoop! Everyday Sunscreen Broad Spectrum SPF 50 as your final step.
As for what's fine to skip? Toners and some serums, according to Dr. Shah (depending on your personal skin type and skin needs). "For those with sensitive skin or conditions such as eczema, paring down their skincare routine is out of necessity," she says, noting that toners can strip the skin's barrier and lead to aggravation, and some more active serums (like those with vitamin C) can also cause irritation, since they're designed to sink deep into pores.
Ahead, all the multitasking skip-care products you need to take that 10-step routine down into the single digits.
Shop Skip-Care