This Is *Exactly* When You Can Start Shopping Glossier's Black Friday Sale
Courtesy of Glossier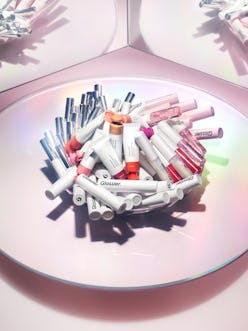 The moment beauty lovers have been waiting all year for is about to arrive: Glossier's Black Friday 2019 sale starts Nov. 29, and everything — yes, everything — is 20 percent off. So go ahead and add its best-selling Boy Brow to cart and get ready to re-stock your beloved Lash Slick — because, in true Glossier style, this once-a-year opportunity is pretty much guaranteed to cause a frenzy.
Thankfully, though, you'll have a few days to navigate through the madness and stock up on your favorites. The sale runs through Dec. 2 this year (aka Cyber Monday), and the discount will be available on Glossier's site, in store, and at its pop ups in Austin and London. (Though if you've ever witnessed a Glossier line firsthand, you know it's probably best to shop this one virtually and just cross your fingers that the site doesn't give out).
Though the sale is pretty much exactly the same as last year's, there are a few launches hitting the store on Nov. 25 to up the ante. And while not *new* products per se, the additions are limited-edition sets that you wouldn't normally be able to get otherwise. Plus, the sets will be included in the markdowns, so you'll be able to get them 20 percent off, too — an inclusion that's a true rarity in holiday beauty sales.
The Lip Gloss Trio, All Balm Set, and Colorslide Trio + Blade are just a few of the 15 limited-edition sets that launch on Nov. 25. And thanks to these bundles, you'll be able to save up to 35 percent on Glossier products during the sale.
But if you're using this opportunity to get acquainted with the brand, there are plenty of individual cult favorites worth snagging while they're on sale, too. You might as well start with its best-selling product of all time, Boy Brow — it's tried and true by beauty editors (including TZR's own) and basically everyone else, too. There are also plenty of derm-approved picks, like Balm Dotcom and Priming Moisturizer Rich, which will help keep your skin hydrated on cold, dry days. Or, try my personal favorite, the Generation G lipstick, which the brand improved in 2018 by making it bigger, smoother, and more matte than the original launch.
Whatever you choose, just remember to head over to the brand's site or store on Nov. 29 — because every Glossier fan knows you should never snooze on a deal like this.