Believe The Hype Behind These 9 Glossier Products, Because Derms Do
John Sciulli/Getty Images Entertainment/Getty Images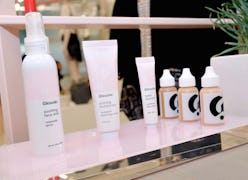 If you've fallen victim to the millennial pink draw of Glossier in all its bubble wrapped glory, you're not alone. And it's not just hype: the brand was projected to surpass $10 million in revenue in 2018, according to Bloomberg. Launched by founder Emily Weiss in 2014, Glossier doesn't just appeal to cool kids with perennially good skin; the medical crowd loves it, too. In fact, some of the best Glossier skincare products are ones that dermatologists recommend, which makes sense as the brand's ethos is "Skincare first, makeup second."
Read more: Brands Like Glossier With Cool, Simple, & Affordable Products
"I wanted skincare as makeup," Weiss told Fashionista in 2014. "I think what's really important about your skin and getting your makeup right is having this moisturized, glowy, fresh, even complexion. And then you take it or leave it with color products and treat them as decoration, not as a mask.
To ensure that skincare makes the perfect canvas for makeup, the brand includes dermatologist approved ingredients like hyaluronic acid, vitamin C, and SPF in its products. These ingredients all benefit the skin by protecting, hydrating, and brightening... important aspects for any kind of makeup look. Some of the skincare products can even double as makeup, if you want to get creative: Balm Dotcom is great for cheekbones that are glassy instead of greasy, and the Priming Moisturizer Rich helps you cut a step (or two) out of your routine, since it functions as a base for foundation, too. How conventionally cool is that?
Scroll ahead to see what New York City-based dermatologist Dr. Joshua Zeichner and Dr. Heidi Waldorf, founder of Waldorf Dermatology and Aesthetics, say about the ingredients in some of Glossier's best products.