When To Start Shopping Glossier's Black Friday Sale, Because Things Are Going To Sell Out Fast
Courtesy Of Glossier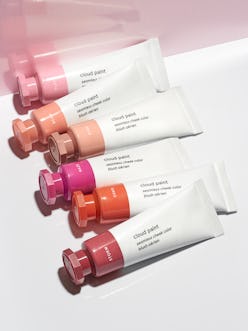 Glossier is more than just an up-and-coming beauty brand you see around Instagram. The "skin first, makeup second" movement is a lifestyle. Though Glossier fans often bemoan the fact that the cult makeup is rarely available to purchase outside the internet, the online Glossier Black Friday sale may make it worth it — and be a chance to try the popular makeup at a more affordable price for Glossier newbies.
Everything will be on sale at Glossier for 20 percent off beginning Nov. 23 and ending Nov. 26. Yes, you read that correctly: everything. Glossier sales like this only happen once a year, and if you're lucky enough to live close to an IRL Glossier location, you can also shop the 20 percent off sale in-store.
You have a few days to organize your shopping cart before the epic sale kicks off, and there are a few tough decisions to make. Will you shop all of Glossier's most popular products, like its bestselling Boy Brow eyebrow filler and shaper, or the dreamy Cloud Paint blushes? Or will you try Glossier's more recent additions, like the reformulated Generation G lipstick? At 20 percent off, your answer is probably to put both in your shopping cart.
Savvy Glossier shoppers know the wonders of Glossier sets, aka Glossier's version of letting you save on its products all year round. Featured sets also bundle products that work even better together — like the Glossier Phase 1 Set — so you can save money and maximize your skin's glow. The $40 Phase 1 set includes the incredible Glossier Milky Jelly Cleanser, Priming Moisturizer, and your choice of Balm Dotcom flavors for $12 less than buying the products separately. Add in Black Friday savings of 20 percent, and you can score the set for $32.
Forget what you may have heard about Glossier not packing powerful skincare punches, too. Though it hasn't been on the shelves long, the Glossier Zit Stick is a dermatologist-approved acne fighter, and the Black Friday sale will make the affordable $14 pimple product only $11.20. Like all of Glossier's other products, the Zit Stick's red and pink packaging is cute enough to earn it a spot on your vanity instead of hiding in your medicine cabinet.
Already know your skin requires more help to stay bright and clear in the winter? Replace face masks that don't seem to do anything at all with the Glossier Mask Duo, a powerful set that'll be marked down to $32 from $40 come Black Friday. Featuring one mask for detoxifying skin (the Mega Greens Galaxy Pack) and one for moisturizing (the Moisturizing Moon Mask), the dermatologist-tested masks are appropriate for all skin types and will let you determine what approach your face needs on any given day.
The signature millennial pink bubble pouch Glossier's products come in are marking their status as icons along with NARS' matte black boxes or Estée Lauder's seafoam green — and this sale is a chance to stock up on the pouches to store your beauty obsessions in for years to come. Ahead, a preview of Glossier's Black Friday sale, with nine products that will make you join the makeup's cult following.